Western Digital introduced their first external hard drive with Thunderbolt technology, the My Book Thunderbolt Duo dual-drive storage system, in 4TB or 6TB capacities. It provides creative professionals, video filmmakers, and Mac enthusiasts with double-safe data protection and flexibility; ultra-fast data transfer rates for greater work efficiency; customized dual-drive storage system with RAID 0, 1 and JBOD options; customer serviceable drives; and dual Thunderbolt ports for daisy-chaining multiple My Book Thunderbolt Duo devices or other peripherals.
Thunderbolt technology brings a new way to connect high-speed storage devices to any desktop or notebook computer with a Thunderbolt port while delivering unmatched speed for multitasking activities such as, editing video/music, 3D rendering, and completing other high definition graphics-intensive projects.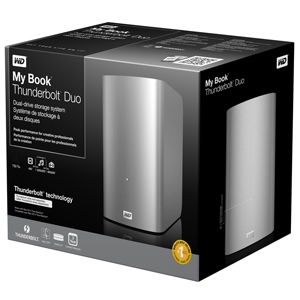 My Book Thunderbolt Duo is an ideal, all-in-one external drive for creative professionals, enthusiasts, and consumers who own vast amounts of digital content including videos, music, and photos. The drive serves as a safe and reliable way to backup content stored on your computer while providing the fastest way to get information to and from the WD drive. In addition, its RAID 1 support allows users to create a second copy of their digital content on the drive for double-safe protection, and peace of mind. The drive also supports a JBOD mode (allocate each disk individually to a specific task) excellent option for users running Windows OS on a Mac.
Additional features found on the My Book Thunderbolt Duo include out-of-the-box compatibility with Mac OS Time Machine and formatting for HFS + Journaled for Mac; capability for multi-stream workflows; and a 3-year limited warranty.
Price and Availability
The WD My Book Thunderbolt Duo is available now in two sizes: