Newly updated, sunglass-style form factor improves comfort and style while delivering true 16 x 9 widescreen video
Vuzix Corporation, the leader in video eyewear for the consumer, defense and low vision markets, is thrilled to launch the Wrap 310. The game-changing Wrap 310 challenges the status quo of traditional video viewing devices by looking and feeling like normal sunglasses. The Wrap 310 will feature twin high-resolution video displays, project a 56-inch screen and include removable noise isolating earphones. Powered for up to 6 hours on just 2 AA batteries, the Wrap 310 will accept video from almost any video player, including the iPod and iPhone.
Whether you are an executive business traveler or want an immersive console gaming experience, the Wrap 310 will get the job done in style. With composite video input and optional VGA and component compatibility adapters, the Wrap 310 is the most versatile pair of video eyewear on the market. Please see a complete list of compatible devices below. VGA and Component adapters coming soon.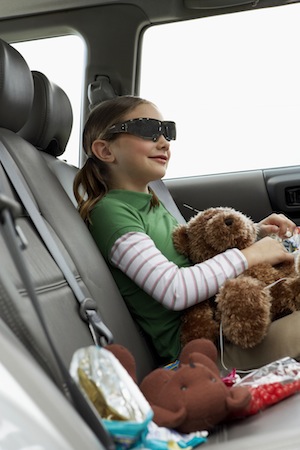 "The Wrap 310 is the first device to merge the look of video eyewear and traditional sunglasses into one," said Vuzix CEO, Paul Travers. "We are excited to be a part of the mobile video revolution and are thrilled to be globally unveiling the Wrap 310 at Showstoppers for the Digital Holidays and the Tokyo Game Show," added Travers.
The Wrap 310 also features an improved on-screen user interface, included independent focus adjustments for users with corrective lenses and still features compatibility with all major 3D video formats. Users now have the option to select various lens colors to personalize their Wrap 310.
Compatible Devices Include:
All iPod/iPhone models
Portable DVD players
Mobile phones with video output
PCs and laptops*
Televisions
DVD/Blu-Ray players
Portable media players
*Requires VGA output
About Vuzix Corporation
Vuzix Corporation manufactures and sells video eyewear for the entertainment, defense, industrial and low vision medical markets. Vuzix products provide users with a portable and private big screen experience that can be used practically anywhere, anytime. Currently Vuzix produces the broadest range of video eyewear solutions in each of its various markets, including 3D video, virtual and augmented reality solutions. The company is revolutionizing the personal display industry and aims to continue to create mobile products that can enrich both the personal and work lives of its customers. Vuzix has won eight CES Innovations Awards since 2005, the 2008 RetailVision Best New Product — Hardware Award, the awards for the 2006 Frost & Sullivan Technology Innovation of the Year Award for European Mobile & Wireless services and has been named the 12th fastest growing privately held company in Rochester, NY by the Rochester Democrat & Chronicle and awarded one of Inc. 500 magazines' fastest 5000 companies. Founded in 1997, Vuzix is a privately held company with offices in Rochester, NY, London, UK and Tokyo, Japan.