In-Line Microphone and Magnetized Earpiece for Enhanced Audio Quality and Call Management
i.Tech Dynamic today introduced the VoiceClip 604, a stylish Bluetooth headset that features an in-line microphone and magnetized earpiece. VoiceClip 604's unique clip design enables the base unit to be affixed to the user's clothing. An attached cord connects the earpiece and includes an in-line microphone. The microphone's positioning close to the user's mouth enhances voice quality and reception.
In addition, the base unit and earpiece are magnetized, so they stick together when the user is not on a call, which prevents the earpiece from dangling.
The device is exceptionally easy to use. The multifunction button is located on the microphone casing. The embossed spot on it facilitates users to direct the microphone to the mouth when conducting the phone call. The button is also used to turn the unit on and off, pair the headset with other devices, and answer and end calls.
VoiceClip 604's clip design is especially appealing for users who find over-the-ear headsets uncomfortable or prefer not to wear an earpiece when not using it. The design also reduces the chance that calls will be missed because a buzzer alerts users to incoming calls and the clip keeps the unit within easy reach, even when it's not in use.
"The clip design is perfect for people who need a Bluetooth headset, but don't want it in their ears all the time or have to dig it out of a briefcase or handbag for every call," said Wendy Cho, managing director, i.Tech Dynamic Ltd.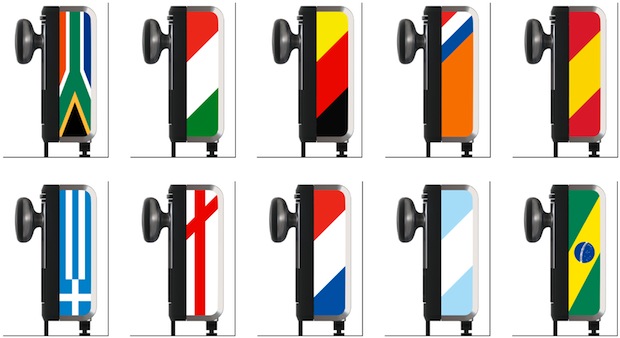 To tie in with hot tides of coming world cup event, VoiceClip 604 comes with 2 versions of complimentary stickers for users to pick up their admirable winning team.
Other features and specifications include:
Bluetooth Version 2.1 + EDR Class 2
Headset and hands-free Bluetooth profiles
Micro-USB charging connector
True multipoint for connecting with 2 phones
3 modes buzzer alert for choice
Volume adjust, call transfer, call reject
Range: Up to 33 feet
Charge time: Less than 3 hours
Talk time: Up to 8 hours
Standby time: Up to 6-7 days
Dimensions: 1.89 (L) x 0.77 (W) x 0.39 (T) inches / 48 (L) x 19.5 (W) x 10 (H) mm
Weight: 0.51 ounces/ 14.6 grams
About i.Tech Dynamic
i.Tech Dynamic Ltd. specializes in the design, marketing and sales of mobile telecommunications accessories. Since its founding in 2002, the company has established a reputation for developing products with sleek designs and good value. Dedicated to innovation and supported with advanced research and development resources, i.Tech delivers electronics and digital products that are highly lauded by users worldwide.