VIZIO today announced the VHT210 32″ Home Theater Soundbar with Wireless Subwoofer. With a sleek design perfectly matched for smaller-sized flat panel TVs, this 32″ Soundbar also connects wirelessly to its subwoofer, with a range of up to 60 feet, and also works with other VIZIO Wireless HD Audio products. Exceptional audio performance is produced by the Soundbar with dual 2.75″ drivers and .75″ tweeters that deliver left right and center channels, all enhanced with SRS Studio Sound HD for an immersive surround sound experience and SRS TruVolume technology that eliminates sharp jumps in volume with channel and program changes.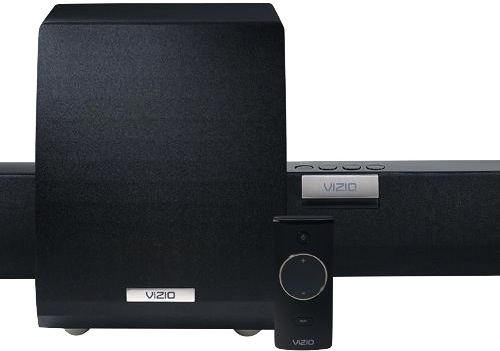 With easy-to-configure table-standing or wall-mounting options and audio inputs including digital audio optical (S/PIDIF) and analog stereo (RCA), the VHT210 is an easy fit and a great performer in any home theater. The VHT210 will be available in Q3 at an MSRP of $299.99.
Also announced today, the VHT510 40″ Home Theater Soundbar with Wireless Subwoofer and Surround Speakers for $399.