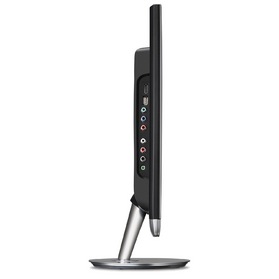 With Edge Lit LED Backlight Technology
ViewSonic Corp. today announced the commercial availability of its new VT2300LED ViewLED™ previewed at CES 2010. At 23″, this eco-friendly LED TV is the ideal size for connecting consumers to the Full HD, dynamic entertainment experience in any space within the home.
"Our LED technology takes the viewing experience to the next level," said Gene Ornstead, director of DTV and business development for ViewSonic. "With our new ViewLED™ TV solutions like the VT2300LED, customers can enjoy 1080p Full HD enhanced picture and video quality with the added benefits of great contrast and vivid color derived from the LED backlight technology. Partnered with an energy saving design, the VT2300LED TV offers the optimal entertainment solution."
For those that demand the latest technology with an energy savings of 30-50% over traditional LCD backlit panels, ViewSonic announces the VT2300LED. This mercury-free LED TV with ViewLED technology features industry leading picture quality for more natural skin tones, vibrant colors, more pure whites and excellent detail and is the perfect size for the kitchen, desktop or anywhere that space is limited.
This high definition device offers a visual experience that is as true to life as it is eco-friendly. With its Full HD 1080p resolution, fast 5ms response time and three HDMI ports, the VT2300LED is ideal for enjoying rich colors and the ultimate HD entertainment experience.
The ViewSonic VT2300LED is currently available for an MSRP of $399. See data sheet (pdf) for more info.