Velodyne introduced the EQ-MAX budget-priced subwoofer line featuring one-touch remote control setup and built-in processing which deliver high performance bass without the complications of system calibration. The EQ-MAX series is available in 8-inch, 10-inch, 12-inch and 15-inch models priced from $479 to $979.
EQ-MAX subwoofers can easily integrate into any home entertainment systems thanks to the digitally controlled five-band equalizer. Users simply place the subwoofer in the preferred location, place the included microphone in the desired listening area and push the remote control "EQ" button. The EQ-MAX remote control also enables users to control all of the subwoofer's functions with visible feedback on the front panel of the subwoofer.
Velodyne's newly designed, efficient, digital Class D amplifiers nearly eliminate the issue of wasting energy as heat, keeping bass peaks clean and dynamic. EQ-MAX's powerful Class D amplifiers are complimented by four custom designed Extended Excursion drivers engineered with vented pole-pieces that increase power handling and assure long-term reliability and performance. The subwoofer's large, dual layer copper wound voice coils are specifically matched with massive magnets (4.66lbs – 10.14lbs) to provide dynamic bass.
Velodyne's unique Distortion Limiting System is another key to EQ-MAX's superior sound performance. With digital precision, the subwoofer achieves maximum output from both the amplifier and woofer motor construction without the risk of overdriving; resulting in deeper bass extension, bigger impact and less distortion.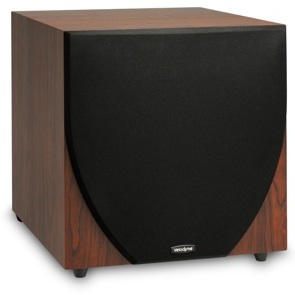 In addition to the "EQ" function, the EQ-MAX remote control lets users control all of the subwoofer's functions with visible feedback on the front panel. The remote allows users to switch between a number of presets; set the sub to "Night Mode" to limit the output; illuminate the front display of the subwoofer; access phase adjustment to get the best possible match between the subwoofer and speaker system; and mute the subwoofer.
The subwoofer series includes an adjustable 40Hz-135Hz low pass crossover that allows the sub to match any home entertainment system speakers. Velodyne's Subwoofer Direct feature allows the EQ-MAX series to play the output of the LFE channel of a 5.1 or 7.1 channel receiver unaltered, assuring listeners the highest level of system performance without any degradation.
EQ-MAX's cabinets are engineered using a down-firing ported design, minimizing the audible distortion known as "port noise", while maximizing bass impact.
Price and Availability
The Velodyne EQ-MAX subwoofers will be available September 2011 in black or cherry at the following prices:
See more about: Subwoofers, Velodyne Subwoofers