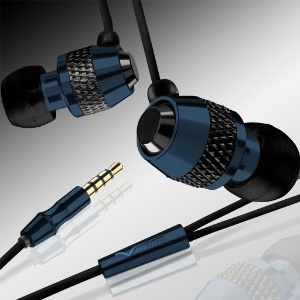 Music Lifestyle Brand Expands Product Lines to Complement New iPod Models and Add Style to MP3 Players, iPhone
Music lifestyle brand V-MODA today announced the addition of five colors to its popular VIBE Duo, VIBE and Bass Freq modaphone lines. VIBE Duo, the dual-use headphone/headset for the iPhone, is now available in new Chrome and Gunmetal Rouge. VIBE, V-MODA's luxury earphone line, is available in new Midnight Blue, and the award-winning Bass Freq collection debuts Jaded and Rouge to match the new green and (PRODUCT) Red™ Special Edition iPod nano and shuffle.
According to Val Kolton, CEO and founder of V-MODA, the brand is heeding the call from consumers to continuously introduce fashion-forward colors that complement the latest MP3 players and other technology.
"Fashion and design epitomize both the V-MODA brand and our products, so it's only natural that we regularly update our earphone colors to appeal to a variety of tastes as well as to complement the latest technology," Kolton said. "Earphones have quickly become the quintessential accessory for everyday life. There's a whole new world out there beyond the ubiquitous white earphone, and we're happy we can provide our discerning consumers a choice in the type of earphone they choose, as well as the color that best matches their personality and technology."
V-MODA's VIBE Duo is a noise-isolating dual-use headphone/headset designed to accessorize the Apple iPhone. The VIBE Duo, which features control-playback functionality, features a discreet microphone with a call button, allowing users to take calls and control the music functions of the iPhone with hands-free convenience. Durable black fabric cables and a minimalist all-metal design round-out the mix of premium features. In addition to Chrome and Gunmetal Rouge, VIBE Duo is also available in Nero.
The VIBE line of luxury modaphones features all-metal craftsmanship and an array of colors, from Flashblack Chrome to Red Roxx to the new Midnight Blue. Like VIBE Duo, the style and sophistication of VIBE earphones are on par with high-fashion jewelry and boast a lightweight, unobtrusive design.
Built for the modern, active lifestyle, Bass Freq earphones offer a comfortable, lightweight and secure fit during any activity. The earphones received CNet's prestigious Editor's Choice Award for their overall sound quality and consumer-friendly price point. In addition to Jaded and Rouge, Bass Freq is available in several colors including That's Hot Pink, Blue Steel and Rocker Red.
All of V-MODA's in-ear headphones feature BLISS (Bass Level Isolating Soft Silicon) technology, which reduces outside noise to produce a precise and rich bass response (frequency 12Hz to 22Hz). The V-MODA modaphones come with three sizes of soft silicon fittings to ensure a perfect fit and help block out unwanted sound.
PRICING AND AVAILABILITY
VIBE Duo headphone/headsets and VIBE luxury earphones are available now for $99.99 and can be found in the U.S. at the Apple Store, and in Europe at the Apple Europe Store and John Lewis stores. They can also be found online at www.apple.com, www.amazon.com, and Shop V-MODA (Shop.V-MODA.com).
Bass Freq earphones are available for $39.99 and can be found at a variety of online retailers, including Amazon.com, Target.com and Shop V-MODA (shop.v-moda.com).
All V-MODA products are backed by a 100 percent risk-free satisfaction guarantee, and free shipping in the U.S. is available for a limited time only. Please visit v-moda.com for more information on pricing and retail availability.
ABOUT V-MODA
V-MODA is the music lifestyle brand based in Hollywood, California. It designs and markets innovative products that fuse high-fashion and high-function, while paying homage to a rock-and-roll and house music lifestyle. The Modaphone Hearwear Collection is part of the V-MODA collection of music-inspired products, apparel, and DJ compilations unveiled in 2006.
Founder Val Kolton, together with designer Joseph Bucknall, leads the innovation and creative nucleus responsible for transforming their music lifestyle vision into an inspired reality. More information about V-MODA and its progressive products can be found at V-MODA.com.
iPod and iPhone are trademarks of Apple, Inc., registered in the U.S. and other countries.