V-MODA announced the Crossfade M-80 White Pearl On-Ear Headphones, a stylish new color composed of white with silver metal accents. The smart and sophisticated design is masterfully crafted to match any ensemble bringing fashion, music and mobile technology together. Authentically tuned by a legion of legendary musicians, Grammy-Award winning producers and audiophiles, M-80 packs professional acoustics, natural noise isolation, ultimate ergonomics and military-level ruggedness into a luxuriously comfortable, travel-friendly compact design. The new SpeakEasy microphones provide crystal clear calls in loud environments and are specially designed and tuned for voice recognition apps like Siri.
The nucleus of M-80 is its patented and biggest-in-class 40mm Dual-Diaphragm Drivers that deliver multi-driver sound with the energy efficiency and consistent quality of a single driver. To recreate a pure and balanced sound analogous to Vinyl, M-80 uses BLISS noise isolation to naturally immerse you into your own world of sound. The specially tuned V-PORT V3 and memory cushions create a true three dimensional sound stage with vibrant bass, vivid mids, and vivacious highs and make M-80 the essential companion for extended listening sessions on smartphones, notebooks and tablets.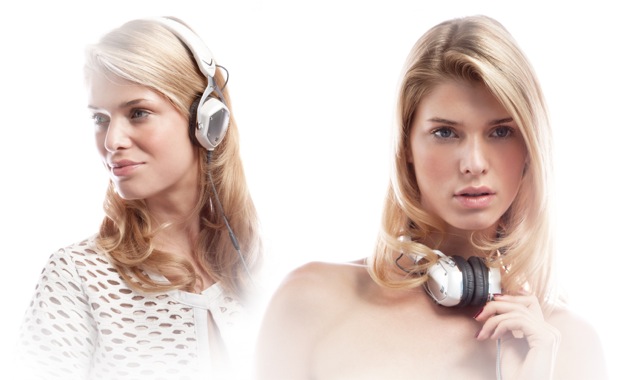 M-80's first-class materials are virtually indestructible including a metal frame, STEELFLEX headband that perfectly contours the head for a sleek look, interchangeable silver metal shields and replaceable memory foam ear pads. The beautiful white and silver finish perfectly complements the accents of Apple and Samsung mobile devices. The M-80 offers universal smartphone compatibility with 2 detachable, Kevlar-reinforced SpeakEasy cables optimized for noisy environments and voice recognition along with an exoskeleton carrying case for added road warrior armor.
Through V-MODA's custom shield and laser engraving, you can interchange the silver metal shields with new colors, designs, logos and even your own design.
Features
40mm patented Dual-Diaphragm drivers (biggest in class)
V-PORT V3 Soundstage
BLISSTM Noise Isolation w/o Leakage
Over 3 Years of Ergonomics Research
Two Kevlar reinforced SpeakEasy cables (3-Button, 1-Button) with separate controls to reduce noise for voice recognition in noisy surroundings
3 button SpeakEasy control and separate microphone for Apple products including iPhone, iPad and Macbooks
1 button SpeakEasy control and separate microphone universally compatible with all audio devices, tablets and 3.5mm smartphone products including Android, Windows and BlackBerry
Stylish interchangeable shields (purchased separately)
White exoskeleton hard case, ensuring headphones are protected in style
Two-year V-MODA Premier warranty
Immortal Life Replacement Program — 50 percent off lifetime discount to replace consumer-damaged headphones
Price and Availability
The Crossfade M-80 White Pearl is available now for $230. See more headphones.