World's First Surround Sound Speaker for Ski, Bike, and Skateboard Helmets Using Surfacesound Technology That Allows Sound Waves to Pass Through Surfaces
TuneBug recently unveiled a line of new products that will transform the current landscape for mobile speaker products. Using NXT's patented technology, Tunebug's line of products generates sound waves that pass through the surfaces it rests on, turning those surfaces into speakers. One of the first sound generators from their line to be showcased includes the Shake, a small attachable device for bike, ski and skateboard helmets which create surround sound inside of the helmet by "exciting" the entire helmet surface which then becomes a speaker. Tunebug is also releasing the Vibe, an ultra portable SurfaceSound speaker for your desktop, tabletop, and other available surfaces.
"We are very excited to unveil our Tunebug products using the NXT patented SurfaceSound Technology at CES 2010," says Dick Brown, CEO of TuneBug. "We hope to add an entirely new solution to listening to music while on the go, anytime, anywhere especially for bikers, skateboarders, skiers, and others who until now have not been able to listen to music safely while wearing a helmet."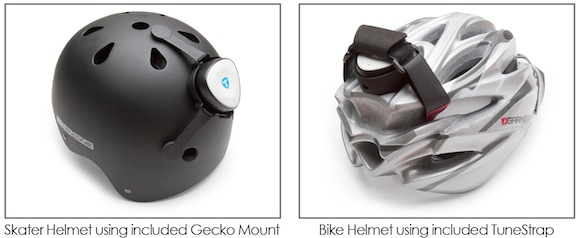 The Tunebug Shake is an ultra-portable sound generator for bike, ski and skate helmets, which can be connected to iPods, MP3 players, mobile phones, or any other portable music device wirelessly using Bluetooth technology or by audio cable. When mounted on one of these helmets, the Shake creates a surround sound experience and provides a great solution for bikers, skateboarders and skiers to avoid the danger of being unaware of their surrounding by having earphones in. It has a rechargeable battery with about 5 hours of playtime and charges via the included USB cord. Fill your helmet with surround sound music starting January 30, 2010 for $119.95.

The Vibe, a SurfaceSound speaker for music lovers on the go, weighs only 5.30z and is 2.3×1 inch in size. It has a LiPoly battery with about 5 hours of playtime. Because of its small portable size, the Vibe is great for a multitude of places and activities including your desktop, tabletop and other surfaces. It charges via the included USB cord and can be connected to any mobile device that has a 3.5mm audio jack. The Vibe is available now for $69.99.
About Tunebug:
Tunebug is a product of Silicon Valley Global LLC (SVG). SVG is currently a seasoned team of executive experts, with over 100 years of combined experience in the field of consumer electronics. Tunebug has created a line of products that utilize their patented SurfaceSound Technology which lets sound waves pass through the surfaces it rests on turning them into a flat panel speaker. Their vision is to bring new listening options to music lovers on the go whether they are skateboarding, biking, skiing, camping, traveling or anywhere that they don't have a good portable music listening option.