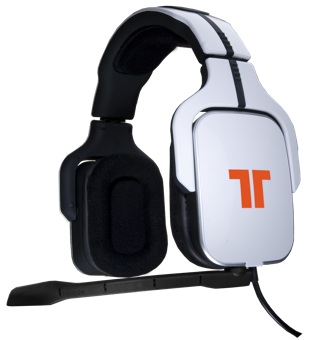 Tritton AX 180
Tritton AX 720
TRITTON headsets are going local, providing gamers relief from money woes and mediocre gaming. From Sept. 1, 2009, TRITTON Technologies, a leader in gaming audio technology, will be exclusively selling two of its high-caliber headsets, the AX 180 and AX 720, at the world's largest specialty consumer electronics retailer, Best Buy.
"During these challenging times, TRITTON continues to provide innovative high performance products. The AX 180 and AX 720 outperform any competition and create a class of their own," said Christopher Von Huben, president, TRITTON Technologies. "The quality of our headsets is absolutely unrivaled, and gamers will love not only our innovative features but the value we provide when they buy our products at Best Buy."


Delivering superior voice communication and precise audio, the AX 720 takes full advantage of the Dolby 5.1 audio found on Xbox360, PS3 and PC games by replicating the individual audio details as they were meant to be heard. During crucial gaming moments, the inline audio controller featuring independent voice and volume controls provides a seemingly true-to-life aural environment – when clearly communicating with teammates can change one's fate from annihilation to victory. By using Dolby headphone technology the AX 720 delivers a simulated 3D audio encounter that transitions the gaming experience from the virtual to the real world.
Serving high fidelity stereo sound through its performance balanced speakers, the AX 180 ensures the highest quality, brain-rumbling audio with independent game and chat volume controls for a recession-friendly price. Designed to convey audio and communication from the Xbox360, PS3 and PC as intended, along with the ability for analog connectivity with the ever-popular Wii system, the AX 180 establishes itself as a high performance universal stereo headset for $69.99.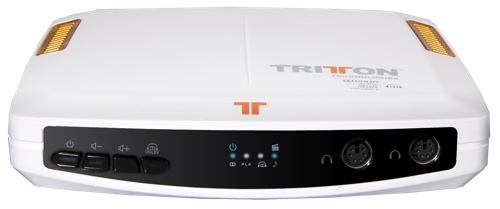 Tritton AX 720 Amplifier
Both gaming headsets are optimized for computer gaming with a USB connection for both PC and Mac, while also being equipped with breakaway cables that allow connection to MP3 players or iPhones with use of optional cables – making TRITTON a universal option for headsets. TRITTON's AX 180 and AX 720, selling at $69.99 and $129.99 respectively, will be found among the blurred crowd of competitor's products on the elite shelves of Best Buy, and available at bestbuy.com.
About TRITTON Technologies
TRITTON Technologies is based in Vista, Calif., and is a manufacturer of high-performance, consumer electronics and computer peripheral products. TRITTON takes pride in creating innovative products that offer superior functionality and reliability.