Better sound quality for audiophiles to play music from iPhone/iPod
ITOK Media Limited's innovative Hi-Fi brand Trends Audio launched their new audiophile mini palm-top amplifier – Trends TA-10.2 Class-T Amp for iPhone. Integrating Tripath's proprietary Class-T Digital Power Processing ™ technology and the special techniques in circuit design, component selection and iPhone to RCA Audiophile cable, Trends TA-10.2 for iPhone achieves the sound quality of high-end Hi-Fi for iPhone/iPod.
"Thanks to the excellent DAC design in iPhone/iPod's Line out and the digital output circuit, iPhone/iPod becomes a high-end CD transport to work with an external Amplifier or Pre-amplifier. Trends TA-10.2 Mini Class-T Stereo Amplifier for iPhone provides better sound quality, larger storage capacity and a more user-friendly interface than most standard CD players". Trends Audio marketing director David Ho said, "Just hook up your iPhone/iPod or other RCA input source, and connect your favorite speakers or Hi-Fi system. Trends TA-10.2 for iPhone is the easiest way for iPhone/iPod users to enjoy the high-fidelity music".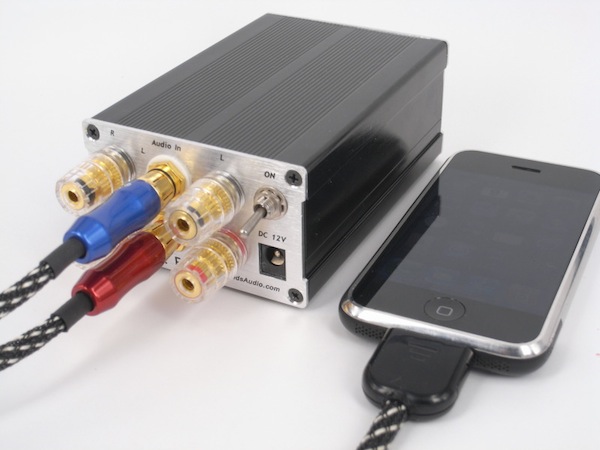 Using the technology of highly acclaimed Class T-amp TA-10 Series, Trends TA-10.2 for iPhone performs very like Class-AB amplifiers with high fidelity and warm sound. Yet, its power efficiency and physical size is just like Class-D amplifiers. Even it's maximum output power is only 2x15W, Trends TA-10.2 for iPhone is actually powerful to push even the floor-stand speakers with sufficient and good control of bass sound. It supports:
iPhone ( 2G & 3G Version)
iPod 3 Gen.
iPod 4 Gen (Color & photo)
iPod 5 Gen (5.5 Gen)
iPod Classic (6 Gen)
iPod Mini (1 & 2 Gen)
iPod nano (1, 2, 3 & 4 Gen)
iPod Touch (1 & 2 Gen)
Comparison between Trends TA-10.2 for iPhone and Trends TA-10.2 for iPhone – SE
| | | |
| --- | --- | --- |
| | Trends TA-10.2 | Trends TA-10.2 SE |
| Power Supply | 36W | 48W |
| Volume Pot | Taiwan Made | ALPS |
| MSRP Price(US$) | $225 | $265 |
Trends TA-10.2 for iPhone is now available and it is the most competitively priced amplifiers for iPhone/iPod.