Fujitsu Toshiba Mobile Communications Limited introduced the docomo smartphone REGZA Phone T-01C in Japan from NTT DOCOMO, Inc. on December 17, 2010.
The T-01C is an all-in-one Android-based smartphone that combines the fun and cutting-edge capabilities of a smartphone with the benefits of conventional mobile phones–including high-spec features, like a 12.2 megapixel high-performance and high-resolution camera, and conveniences such as Osaifu-Keitai mobile wallet functionality and water-resistance.
Equipped with Mobile REGZA Engine 3.0–a processing engine optimized for smartphones that is based on the super-resolution technology employed in Toshiba's REGZA LCD TVs, the T-01C enables users to enjoy watching one-segment TV, YouTube, and other videos in beautiful image quality. The handset's 12.2 megapixel autofocus-enabled camera ranks among the industry's highest performance cameras for a smartphone, and it is capable of recording hi-definition video footage.
In addition, the T-01C is equipped with a number of features that have been highly requested by users of conventional mobile phones, including IPX5/IPX7 water-resistance, Osaifu-Keitai functionality, one-segment infrared communications, and the ATOK Japanese input system, making the T-01C an all-in-one, high-spec smartphone.
Mobile REGZA Engine 3.0 allows users to enjoy high-resolution one-segment broadcasts
The mobile phone is equipped with Mobile REGZA Engine 3.0, a version of Toshiba's REGZA high-definition technology for LCD TVs that has been optimized for use in smartphones. The technology employs a variety of advanced features, such as super-resolution technology, which processes complicated images in real-time, auto-image adjustment, which adjusts the phone's backlight in response to the brightness of the surrounding environment and performs picture correction, thereby enabling users to view the screen without being affected by the brightness of surrounding light, and noise reduction, which reduces alias distortion, an issue common to one-segment video that existing noise reduction technologies have been unable to remedy. These features make it possible to enjoy one-segment broadcasts and videos in more beautiful high-resolution using the phone's large 4″ screen. In addition, the Mobile REGZA Engine 3.0's frame interpolation functionality helps to smooth one-segment streams, allowing users to view high-quality videos.
Water-resistant and compatible with Osaifu-Keitai and infrared communications
The phone features IPX5/IPX7 water-resistance technology. It can be used in any environment, including the kitchen, bath and outdoors, without users needing to worry about it getting wet. As the T-01C is compatible with Osaifu-Keitai, users can take advantage of services like electronic money and coupons. The mobile phone can also exchange contact information with other mobile phones using infrared communications.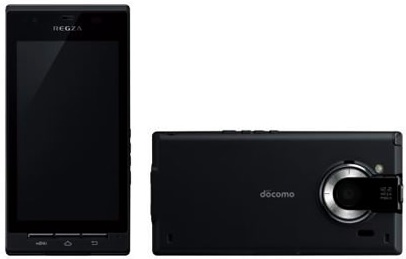 12.2 megapixel high-definition camera with Hi-Vision video recording
Hi-Vision video recording — The camera is capable of recording Hi-Vision video footage (1,280 x 720 resolution). Users can enjoy even the most subtle details in their images.
Face-finder autofocus — When taking photos, the mobile phone automatically focuses on the subject's face using an image-processing engine. Simply by tapping on the touchscreen, the user can manipulate the shot to focus on their object of choice. Other functions include automatic face-tracking focus, smile finder, and airbrushing.
Employs NX!UI, an original, easy-to-use interface
Home-screen and 16 palette types — The original NX!UI home-screen interface fulfills the needs of users who want to quickly access their favorite websites and keep a constant eye on Twitter. By assigning a palette to one of 16 different features, users can instantly access applications and features with the slide of a finger.
Star Memos — Just like sticky notes, users can save Star Memos containing not only text, but also information such as website news, map routes from a train station, as well as their favorite Twitter tweets. By briefly pressing the camera key located on the side of the mobile phone, the user can access the Star Memo composition screen to save memos of interest, ranging from text and handwritten messages, to photographs and videos. Users can take advantage of the T-01C's unique smartphone capabilities by directly uploading saved Star Memos to mixi journal entries, Twitter or Picasa.
Compatible with Flash Lite 4.0
Users can access animated Internet sites using the mobile phone, in the same way they would on a PC.
Product Specifications
Size: 126 x 62 x 11.9 mm (14.7 mm at thickest point)
Weight: 149 g
Continuous Standby Time: 370 hours in FOMA 3G static (automatic) / 250 hours in GSM static (automatic)
Continuous Talk Time: 280 minutes in FOMA 3G voice mode / 260 minutes in GSM voice mode
Main Display: 4.0″ TFT color LCD full wide VGA (480 x 854 dots)
Camera: 12.2 megapixel effective resolution, CMOS sensor (back side)
Colors: Moist Black and Mello Bordeaux
Compatibility with Key Services and Applications
docomo market, Android Market, HIGH-SPEED, sp mode, Google Services, moshimo camera, UkiUkiView, Evernote
Reviews Around the Web:

toshiba t-01c