The Newsly Designed, Light-Weight Satellite M300 Offers an Elegant Design and an Attractive Mix of Multimedia Capabilities in a Mobile 14.1-inch Package
Toshiba's Digital Products Division (DPD), a division of Toshiba America Information Systems, Inc., today announced it's now shipping the new Satellite M300 laptop series, a 14.1-inch travel laptop with Toshiba's innovative Fusion™ finish and a starting price of $949.99.
Toshiba's Satellite M300 sports a stylish and elegant new design that makes the series a welcome addition to anyone's home or office. Using Toshiba's Horizon design the stylish M300 series carries a brilliant Fusion finish that's bonded directly into the chassis to give the notebook an overall sleek and stunning appeal.
"Since the beginning Toshiba has strived to produce the most innovative laptops with the features that consumers want," said Jeff Barney, vice president of marketing, Digital Products Division, Toshiba America Information Systems, Inc. "With the design of the Satellite M300, and the new Fusion finish, we were able to focus our energies on providing consumers with a fashionable laptop that doesn't compromise power and performance for mobility."
With a starting weight of just over five pounds, the Satellite M300 packs several impressive features such as a beautiful 14.1-inch TruBrite™ high-definition display, which allows users to view a wide variety of high-definition content including streaming of online HD television programs, HD movie trailers and HD video podcasts. The laptop also features new LED-illuminated "Feather-Touch" multimedia command keys, where with the mere touch of a finger, users can control the audio and video playback of their favorite movies and music. In addition, the Satellite M300 comes standard with two Harman Kardon speakers that deliver incredible virtual surround sound through the use of Dolby Sound Room™ technology.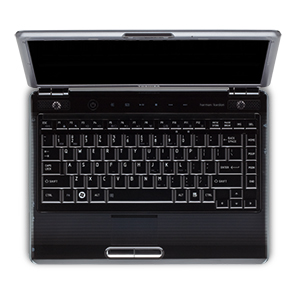 The Satellite M300 also offers a variety of useful and practical features, such as a flush mounted touchpad, which rests seamlessly across the center of the palm rest with a white LED light across the top to enhance the detail-oriented finish, while providing a slight texture change so users can easily find the touchpad without looking away from the screen. Innovative Sleep-and-Charge USB ports incorporated into the M300 series allow for popular mobile devices such as MP3 players, mobile phones and PDAs to be charged whether the laptop is powered-on or off. Another convenient feature found on the Satellite M300 is the built-in Webcam with Toshiba's facial recognition software, which offers a user a unique and fun way to gain access to the laptop based on the user's face.
The DVD/SuperMulti drive on the Satellite M300 supports 11 formats and empowers users to take full advantage of an array of optical media. Additionally, the optical drive supports Labelflash™, which gives users the ability to burn labels and images directly onto the discs and results in a more professional end product and eliminates the need for expensive printing equipment.
The M300 series is outfitted with the variations of the latest Intel Core™ 2 Duo Processor technology, which provide users with an abundance of power to enjoy all that modern computing stands for in terms of Internet, multimedia entertainment and productivity.
The new Satellite M300 series is available at a variety of major consumer electronics and computer stores nationwide or directly from Toshiba at http://www.toshibadirect.com.