Toshiba announced the Qosmio X775 and Qosmio X775 3D gaming laptops featuring a high-performance blend of processor technologies from Intel and NVIDIA, while delivering ultra-fast components and entertainment-focused features.
The Toshiba Qosmio X775 is one of the first laptops to feature the NVIDIA GeForce GTX 560M graphics processor with 1.5GB of discrete graphics memory plus battery-saving Optimus technology, the Qosmio X775 is able to handle demanding DirectX 11 games with ease while delivering plenty of performance for media creation apps. Offering a choice of 2nd Generation Intel Core i5 or i7 processors, configurations are available with up to 8GB RAM, plenty of ports, including a USB 3.0 port, plus hard drive storage options scaling up to 1 terabyte.
Featuring a 17.3-inch diagonal HD+ TruBrite LED backlit display, the Qosmio X775 features built-in premium harman/kardon speakers and subwoofer tuned with sound enhancement technologies from Dolby and MaxxAudio 3 by Waves Audio. Dressed in a premium Fusion X2 finish and a raised-tile keyboard enhanced with red LED backlighting, the Qosmio X770 delivers distinctive and durable styling that is sure to turn heads. The laptop features a full range of Toshiba "Smart" features, including USB Sleep & Charge and Toshiba Sleep & Music, enhancing the laptop's capabilities to power up smartphones and sound to MP3 players while powered down. Additional configuration options include a Blu-ray Disc player and Bluetooth v3.0.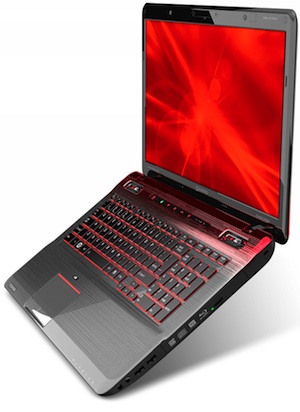 The Qosmio X775 3D, featuring NVIDIA 3D Vision technology, offers full stereoscopic 3D entertainment for gaming, movies, photos and more. Featuring a 17.3-inch diagonal 120Hz 3D-ready, 1080p HD TruBrite LED backlit display, this laptop includes a pair of wireless active shutter glasses for out-of-the-box 3D enjoyment, plus essential components for Blu-ray 3D playback, 2D-to-3D movie conversion, plus output to a 3DTV, the Qosmio X775 3D delivers a full suite of 3D enjoyment.
Offering the same high-end processors, components and styling featured in the Qosmio X775, the Qosmio X775 3D maxes out the platform even further with a 1.25 terabyte hard drive with Hybrid Drive technology, plus a Blu-ray Disc Rewriteable drive.
Pricing and Availability
The Toshiba Qosmio X770 Series will be available later this month.
Toshiba Qosmio X775 → $1,199.99
Toshiba Qosmio X775 3D → $1,899.99