Toshiba announced the CAMILEO X400 HD camcorder that offers all of the features of the X416, but relies on external memory through the SD/SDHC/SDXC card slot instead of internal storage.
X400 shoots Full HD 1080p (1920×1080) video and provides 16-megapixel interpolated still photos. Its three-inch diagonal swiveling LCD touchscreen with on-screen video trimming makes it easier to capture, edit, send and share memories in the form of videos or still photos.
Electronic Image Stabilization helps users fill the frame without destroying the quality of the video, while its handy Pause button makes it possible to stop wasting storage space and reduce file clutter by recording multiple moments into a single file.
The CAMILEO X400 camcorder offers a supplemental built-in microphone jack that allows users to complement flawless filming with ideal audio support.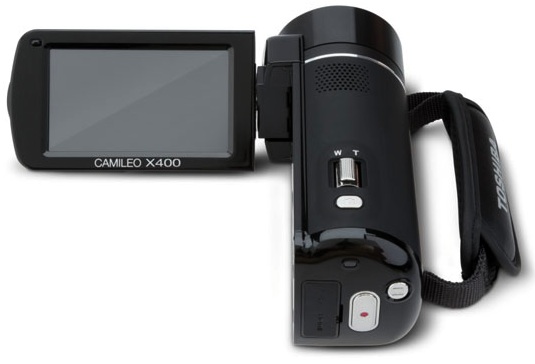 An HDMI cable is included for easy hook-up for watching videos on a HDTV. Built-in CAMILEO Uploader software helps you share videos or photos on the major social media sites.
Pricing and Availability
The Toshiba CAMILEO X400 camcorder is available now for $279.99.