TomTom today introduced new GO Series in-car GPS navigators, the GO 2535 M LIVE (formerly named the GO 2505 M LIVE) and the GO 2435 and 2535, which are enhanced versions of the popular GO 2405 and 2505.
The connected GO 2535 M LIVE is the first in the next generation of the TomTom GO LIVE devices to feature powerful LIVE Services, including the award-winning TomTom HD Traffic. Now, for the first time in the US, drivers will have access to TomTom HD Traffic — the most accurate, comprehensive and up-to-date traffic solution available.
TomTom HD Traffic provides the most accurate reporting by capturing more of the actual traffic jams than ever before. Additionally, TomTom HD Traffic will recognize traffic conditions for all major and secondary roads within the U.S. road network and will deliver real-time traffic updates every two minutes. With these advancements, TomTom HD Traffic will help drivers steer clear of traffic sooner and get them to their destination faster.
The enhanced LIVE Service offering, which will be delivered via AT&T's wireless network, will also include Local Search powered by Google, Fuel Prices, and Weather Forecasts. LIVE Services are available out-of-the-box with a free 12-month subscription.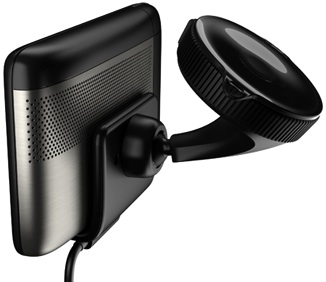 GO 2435/2535 Series
The launch of the new GO 2435 (4.3″ screen) and GO 2535 (5″ screen) devices offer consumers the same innovative new features and superior routing intelligence of the popular GO 2405 and 2505 devices, and now adds TomTom's newest voice recognition technology.
The new and improved Intuitive Voice Recognition on the 2435 and 2535 Series allows drivers to keep their eyes on the road with access to over 130 voice commands. The newest models in the series also incorporate improved voice recognition technology that allows addresses to be spoken naturally. For instance, drivers can now say "Take me to 55 Main Street, Anywhere, USA" in one simple step rather than breaking up the address by city, state, street and street number. This feature will also available on the GO 2535 M LIVE.
Features Overview
Instant and continuous routing
Crisp, sharp graphics and intuitive user menus
Pinch-to-zoom and swipe from screen-to-screen using gestures
Bluetooth Hands-Free Calling to maximize safety
Intuitive Voice Recognition with natural address entry
A click-and-lock mount to keep the device securely mounted while driving
Expanded driving view on 4.3″ (GO 2435 TM) or 5″ (GO 2535 M LIVE and GO 2535 TM) glass touch screens
Lifetime Traffic & Map Updates (varies by model)
Announces Street Names
Advanced Lane Guidance
Additional Features Available only on the GO 2535 M LIVE
TomTom LIVE Services bundle, including TomTom HD Traffic, Local Search, Fuel Prices, and Weather Forecasts.
Pricing and Availability
A free 12-month subscription of LIVE services will be available with each purchase.