TEAC announced the Reference Series CR-H700i DAB network CD receiver offering music lovers numerous ways to enjoy high-quality audio, from streaming music via Airplay, to CD and even vinyl.
The CR-H700 is a high-quality, one-box audio solution: a CD player; 40-watt amplifier; FM/AM/DAB/ internet radio player and Airplay streaming device all in one stylish and compact chassis. It brings hi-fi-quality sound to Apple Macs, PCs and iOS devices thanks to the addition of AirPlay technology and enables high-performance CD playback as well as vinyl replay from a suitable turntable, using the unit's high-quality, built-in phono stage. It will also allow users to play music stored on computer hard drives and NAS over a wired (Ethernet) or wireless (wi-fi) connection. iPods and USB drives can also be connected via the unit's fascia-mounted USB socket where MP3, WMA, WAV, AAC and FLAC files can be decoded and enjoyed. A USB lead is provided for iPod use.
Based on TEAC's CR-H500NT platform, the CR-H700 network CD stereo receiver boasts a room-filling 40 watts of TEAC-engineered amplification and offers consumers a wide range of radio stations across AM/FM and DAB bands, as well as internet radio using the vTuner service. It's incredible flexibility means you can also attach other source components via its rear-mounted RCA inputs, enabling you to enjoy hi-fi sound quality from numerous connected devices such as DVD players, set-top boxes and TVs etc. It also features headphone and subwoofer outputs in addition to a standard RCA output.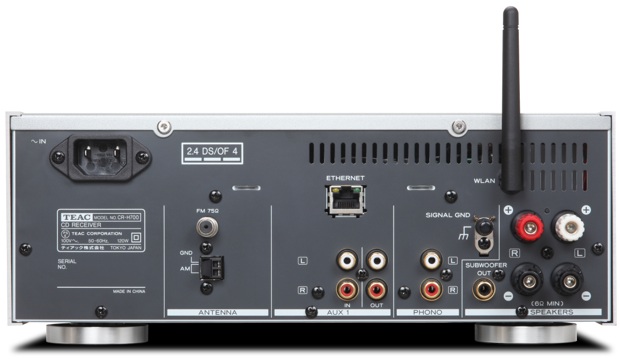 Internally, the CR-H700 benefits from TEAC's advanced audio engineering and high-quality component selection, which includes a 24-bit DAC (digital to analogue convertor) from respected chipset expert Burr-Brown. Featuring brushed aluminium front and side panels, the high-quality aesthetics will seamlessly blend into any living environment with ease. Users can take full control of the unit, including basic iPod functions, with the supplied remote control, whilst Airplay users can enjoy their music collection in full using their iOS devices. Further features include a clock, timer on/off and sleep function, a dimmable display and preset function.
Price and Availability
The TEAC Reference CR-H700i DAB is available for £449.99 in the UK.
Specifications
Stereo CD receiver CR-H700/700DAB
40W + 40W (6 Ω, 1 kHz, 0.5 % THD)
Functions: CD, iPod/USB, Tuner, Network, AUX1, AUX2, Phono
Apple AirPlay and DLNA Compatible
24bit/192kHz Delta-sigma D/A Converter
Supports CD, CD-R/RW, MP3 and WMA discs
iPod/iPhone/iPad Digital Audio Connection via USB cable
MP3/WMA/WAV/AAC/FLAC Decoding from USB Memory
Discrete Amplifiers
Program CD Play, Repeat (1/ALL), Shuffle Play
AM/FM/Internet-Radio Stereo RDS Tuner (DAB version additionally with DAB/DAB+
Preset Station Memory
Fluorescent Display with Dimmer
Clock, Timer-on/off, Sleep Timer
Remote Control (also controls iPod functions incl. menu operation) RC-1286
Audio Input: x 3 (RCA x 2, Stereo Mini x 1)
Audio Output: x 1 (RCA)
Subwoofer Preout: x 1 (RCA)
Headphone Jack: x 1 (Stereo Mini)
USB Port: x 1
Ethernet Port: x 1 (RJ-45, 10Base-T)
Wireless LAN: x 1 (IEEE802.11b/g)
Speaker Terminal: Binding Post
Operation: 230V AC, 50Hz
Dimensions (W x H x D): 290 x 113 x 338 mm
Weight: 5.4kg
Brushed Aluminum Front and Side Panels
Colors: Black