Iconic messaging device adds built-in support for top social networking sites, GPS and enhanced video capabilities
T-Mobile USA, Inc. announced the newest T-Mobile Sidekick LX™, featuring 3G for faster data speeds and enhanced mobile access to popular social media sites. The Sidekick LX, which is available for pre-order via a Web-only pre-sale for existing T-Mobile customers at sidekick.com, also provides improved video capabilities as well as GPS-enabled Live Search. In addition to the new features, the Sidekick LX boasts its iconic swivel design in two new colors — orchid and carbon — and features the sharpest screen and thinnest profile ever delivered on a Sidekick.
"Our Sidekick customers are going to be blown away by the new features this device is offering, which is why it's so exciting to give them the exclusive opportunity to get it before anyone else," said Denny Marie Post, chief marketing officer, T-Mobile USA, Inc. "Today's Sidekick customers are avid communicators, with three out of four accessing social networking sites on their device at least once per week. The real-time notifications, tied with 3G speeds and GPS, will provide customers with the best experience of any Sidekick before, and we expect it will exceed their expectations."
The "Communities" section of the Sidekick will provide one-click access to the most popular social networking sites, bringing Facebook, MySpace and Twitter directly to the customer via customized applications that update automatically and put notifications directly on the Sidekick home screen. GPS-enabled Live Search lets Sidekick LX customers map their current location and search for a nearby coffee shop or cafe, share favorite spots with friends via integration with Sidekick's messaging capabilities, or view additional search tabs to quickly check real time traffic, gas prices or movie showtimes.
The new Sidekick LX also delivers an improved multimedia experience with a 3.2 megapixel camera and enhanced video capabilities that make it easy for users to record and share pictures and videos on popular social networking sites. Support for audio and video streaming lets users view and listen to their favorite online content from sites like YouTube. And with the sharpest screen to-date for a Sidekick, watching streaming videos on the Sidekick LX is easy on the eyes.
This next-generation T-Mobile Sidekick LX maintains the popular features that define the Sidekick family including the intuitive user interface — now with a built-in self-help application, the iconic swivel screen and a full QWERTY keyboard. The new LX will catch eyes from across the room with energetic mood lights running horizontally across the top of the screen so customers can be made aware of messages as they come in. The new device also provides personalization options including the ability to record your own ringtone or receive and save them via e-mail.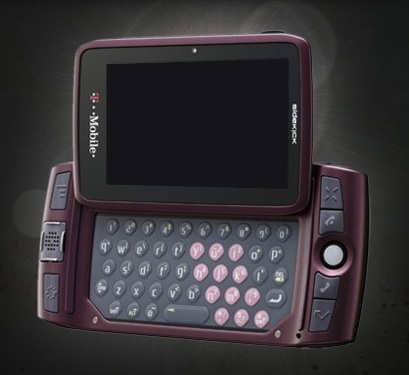 T-Mobile Sidekick LX features include:
Integrated social networking application bundle includes Facebook, MySpace and Twitter
High-speed Web browsing with 3G support
Built-in GPS support with Live Search
3.2-megapixel camera with autofocus and an LED flash
Ability to record, play and share videos
Share recorded videos via e-mail and upload videos to social networking sites
Watch videos on YouTube via the web browser or on MySpace
Carbon or orchid finish
Music player with streaming audio and streaming RTSP video
3.2-inch F-WVGA screen with high-definition LCD technology with 854×480 resolution
Support for personal e-mail, SMS, MMS, instant messaging (IM)
Clients include AOL Instant Messenger, Windows Live and Yahoo! Messenger
Iconic swivel design and full QWERTY keyboard (manufactured by Sharp)
Intuitive user interface with Quick Find to search across all applications
Network Address Book
Included 1GB microSD™ memory card
Bluetooth 2.0 with A2DP supports stereo Bluetooth and Bluetooth file transfer to other Bluetooth devices including photo printers
Dimensions: 5.1 x 2.4 x 0.6 inches; 5.7 ounces
Quad-band GSM/GPRS/EDGE worldphone (850/900/1800/1900 MHz)
Dual-band UMTS/HSDPA (AWS Band IV & Band I)
1250 mAh Lithium Ion battery
Battery: 3G — 3 hours talk time, 6 days standby; 2G — 5.5 hours talk time, 8 days standby
Software and services provided by Danger, a Microsoft subsidiary.
Shortly following launch, T-Mobile plans to make available Exchange Active Sync support via the Sidekick Download Catalog so customers can stay virtually connected to work.
The Sidekick LX is available for purchase to existing T-Mobile customers beginning April 17, through a Web-only pre-sale at sidekick.com. The new device will be available for all on May 13 at select T-Mobile retail stores and online at www.t-mobile.com.