SunBriteTV announced the 22-inch Model 2220HD all-weather outdoor display and color options for the existing product line. Model 2220HD will be available October 1, 2010, with an expected MSRP of $2,095.
Model 2220HD is a 22-inch 1386 x 768 pixel LCD HDTV. The corrosion-resistant, powder-coated aluminum exterior protects the internal TV components from rain, dirt, insects and extreme weather conditions.
With the company's proprietary Multi-Fan Airflow System, the TV remains cool and safe in temperatures up to 122°. With variable fan-speed controlled by the TVs internal thermostat, increased cooling is provided as needed, therefore keeping fan noise to a minimum. The TV's thermostatically-controlled heater activates automatically to control condensation and allows the TV to safely remains outdoors in temperatures as low as -24° F.
The 22-inch HD LCD screen displays a bright 1366 x 768 pixel image 2500:1 contrast ratio. The anti-reflective, impact- and scratch-resistant window built into the exterior protects the LCD screen while reducing glare and improving picture quality.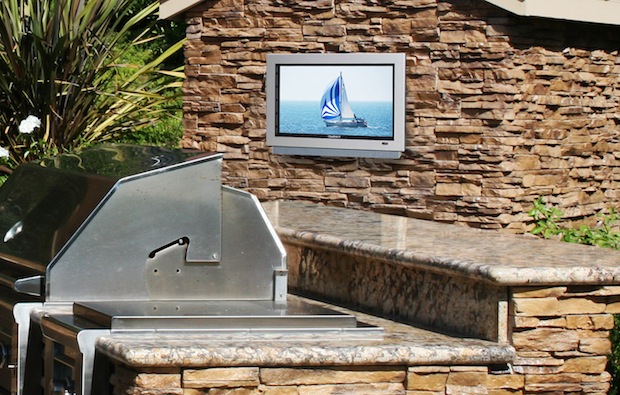 SunBriteTV's innovative watertight cable entry system and cable pass-through design ensures quick and easy hook-up to a wide selection of video inputs, including two HDMI connections, component, VGA, S-video, composite, RF, RS232 serial and the discreet IR control.
Model 2220HD includes two choices to simplify integration with control systems. RS232 serial is a full-featured command set with discrete on/off input select and volume control, and discrete IR control, provides codes for power on/off and input select. Furthermore, the TV is equipped with a water-resistant detachable speaker module that can to be removed when the TV is integrated with an external sound system.
Model 2220HD will also accommodate SunBriteTV's Internal Media Compartment. This in-factory upgrade customizes the TV to accommodate the Cisco Digital media Player or Enseo hospitality tuners with Pro:Idiom technology (media players and hospitality tuners are available through their respective companies) in the TV's watertight cable compartment. Once the media player or tuner is installed and the door is closed, the media is completely sheltered and safeguarded by the company's all-weather feature- set. The Internal Media Compartment upgrade is already being used in professional and college stadiums and hotels across the company, and is available with Models, 3220HD, 4610HD and 5510HD.
New to the SunBriteTV line-up is the Black color option for models 5510HD, 4610HD, 3220HD and 2220HD and the Marine White color option for models 2220HD, 3220HD and 3230HD.
SunBriteTV's are shipped with a water-resistant remote control with long-life lithium batteries, and a one-year in-factory parts and labor warranty. A removable table top stand is included with Models 2220HD, 3220HD and 3230HD, and a one-year, in-factory, parts and labor warranty is included with all models.
For optimum viewing, SunBriteTV offers optional ceiling mounts and articulating wall mounts that allow for horizontal extension, lateral rotation, tilt and swivel functions. For additional backyard placement choices, a deck/planter pole mount is also available. The pole can be set in concrete, a planter, or bolted directly to a flat surface like a patio or pool deck. Pairing the TVs with the articulating mount gives users virtually unlimited viewing options. An optional removable tabletop stand is available for the 4610HD and 5510HD.