SteelSeries announced a new MMO gaming mouse co-developed with Blizzard Entertainment. With a unique exterior that evokes the armored plating of Deathwing the Destroyer, the World of Warcraft: Cataclysm MMO Gaming Mouse delivers superior ergonomics and an intuitive button layout with advanced software functionality.
Armored Comfort and Control
The ergonomically designed SteelSeries World of Warcraft: Cataclysm MMO Gaming Mouse has an intuitive 14-button layout. Its fine tuned ergonomics and button positioning provide players with the ability to comfortably use all the extended buttons. Macros and controls can be assigned to all buttons directly from within the game. Together with its 16-million color illumination options, 4 pulsation levels, the ability to save up to 10 character-linked profiles in the software and 1 profile directly on the mouse, players have a wide range of options to customize their gaming experience.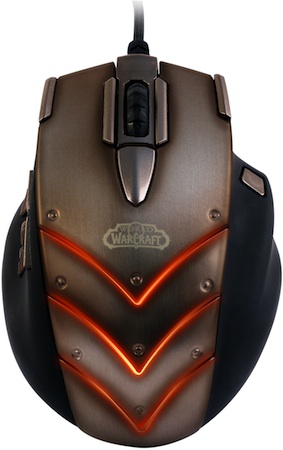 The drag and drop software empowers players to:
Program all 14 buttons with more than 130 preset game commands
Create custom macros and/or use the in-game macro scripting language
The SteelSeries World of Warcraft: Cataclysm MMO Gaming Mouse features best in class technical specifications including:
Frames Per Second: 11,750
Inches Per Second: 150
Counts Per Inch: 90 – 5,040 ( DPI / CPI )
Lift Distance: 1 – 5mm
14 Programmable Buttons
Cable: 2.5 m / 8.2 ft Braided Nylon
Mac and PC Compatible
"For two years, our R&D team worked on the new Cataclysm mouse. It provides a wide range of customization options and delivers a more comfortable, intuitive, and ultimately better experience."
— Bruce Hawver, SteelSeries CEO

Price and Availability
The SteelSeries World of Warcraft: Cataclysm MMO Gaming Mouse is $99.99 USD / €89.99 EUR MSRP and will be available at the December 7, 2010 launch of World of Warcraft: Cataclysm.

<!-comments-button-->