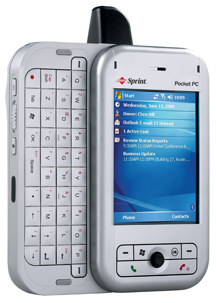 OVERLAND PARK, Kan, 09/16/2005 – Sprint (NYSE: S) today announced the launch of the Sprint PCS VisionSM Smart Device (PPC-6700), the first PDA/phone-combination handset in the country to offer the new Microsoft Windows Mobile 5.0 software, featuring updated Microsoft Office applications including Outlook Mobile and the new PowerPoint Mobile. Marketed by UT Starcom Personal Communications and operating on the Nationwide Sprint PCS Network, this CDMA device is a light and manageable productivity powerhouse combining a wireless phone, Evolution Data Optimized (EV-DO) and Wi-Fi data functionality, Bluetooth Wireless Technology, email, Web access, a full QWERTY keyboard, and a 1.3-megapixel camera with video capabilities. The PPC-6700 will be available through Sprint business sales channels next week for a suggested retail price of $629.99 before discounts and promotions. The device will be offered nationwide in Sprint Stores and online at www.sprint.com later this year.
"Sprint continues to provide mobile professionals a portfolio of wireless devices and broadband choices unsurpassed in the industry," said Vicki Warker, vice president of marketing and product for Sprint. "With Wi-Fi, 3G and EV-DO high-speed wireless data, our customers now have more choices for staying productive while on the go. The PPC-6700 allows customers to capture the power of any of those services without taking up too much space in a briefcase or pocket."
The PPC-6700 reproduces the Windows-based PC experience and utilizes a new suite of Microsoft Office software, including the addition of PowerPoint Mobile for viewing presentations on the go and Excel Mobile with enhanced attachment-viewing capabilities. Managing documents, email, appointments, contacts and tasks is easier than ever with a 416 MHz Intel PXA270 processor and a sliding QWERTY keyboard that opens from the side and automatically changes orientation from portrait to landscape viewing mode.
"We believe the PPC-6700 really is the next-generation mobile device," said Philip Christopher, president of UT Starcom Personal Communications. "Built with business applications in mind, the sliding keyboard and advanced data capabilities are just two of the many features, which when paired with Sprint's advanced wireless service, are designed to enable professionals to virtually carry office capabilities in their pocket." Multiple data capabilities give customers more choices for quick and convenient methods to send or receive email, attachments and text messages; view documents; browse the Web; listen to news, music and other audio clips; and access corporate applications while on the go. The handset supports broadband-like speeds where Sprint's wireless high-speed data (EV-DO) is available and is backwards compatible to provide 1XRTT throughput speeds in areas where EV-DO service is not yet available. Sprint currently provides wireless high-speed data service in more than 75 markets nationwide, covering more than 100 airports in the country. Embedded Wi-Fi for data will also allow users to connect in thousands of Sprint-compatible domestic and international Wi-Fi ZONES and other public, enterprise and residential Wi-Fi locations. Various billing methods apply in non-Sprint venues.
With embedded Bluetooth Wireless Technology, the PPC-6700 automatically connects with Bluetooth headsets and car kits (sold separately). Dial-up networking capabilities for use with Bluetooth-enabled laptops and desktop computers will be enabled with a future software release. Capturing, sharing and viewing pictures and video is easy with the embedded 1.3-megapixel camera with built-in flash and digital zoom. The device also includes a built-in mini USB port and mini SD expansion card to add memory; transfer music, photos and video from the desktop; or load additional games and applications.
"With the power and flexibility of the new Windows Mobile 5.0 software platform and the speed of the Nationwide Sprint PCS Network, mobile information workers will have the freedom to stay connected when and where they want," said Suzan DelBene, corporate vice president of marketing for the Mobile and Embedded Devices Division at Microsoft Corp. "The PPC-6700 is the result of Microsoft's strong relationship with Sprint, molding flexible software with innovative hardware and a dependable network to help business customers more easily access their most essential information."
The PPC-6700 also supports Microsoft Exchange ActiveSync for over-the-air synchronization of email and calendar information with Microsoft Exchange Server 2003.
Packaged applications include Action Info and AudibleListener. Users will enjoy a 30-day free trial of access to content from their favorite brands, including eBay, Amazon.com, FOX Sports, AP News, AP Stocks, Microsoft MapPoint, AccuWeather, Restaurant Row, and Zap 2 it Movies; details at www.actionengine.com/actioninfo/sprint. Also, Sprint customers can receive $100 cash back with a 12-month subscription to audio books, audio magazines, newspapers, radio programs and more with audible.com at www.audible.com/sprint6700.
Additional content is available via the Sprint PCS Software Store provided by Handango, an intelligent on-device catalog of applications and digital media, allowing users to find, download and buy software, games, ringtones, graphics and other applications simply and securely. The store can also be visited online at http://sprint.handango.com.
For complete details on the PPC-6700, visit http://www.sprint.com/business/products/phones/ppc6700_allPcsPhones.jsp.
About Sprint Nextel
Sprint Nextel offers a comprehensive range of wireless and wireline communications services to consumer, business and government customers. Sprint Nextel is widely recognized for developing, engineering and deploying innovative technologies, including two robust wireless networks offering industry leading mobile data services; instant national and international walkie-talkie capabilities; and an award-winning and global Tier 1 Internet backbone. For more information, visit www.sprint.com/mr.
About UT Starcom
UTStarcom Personal Communications is changing the way the world communicates through innovative wireless technology applications that deliver practical, reliable and flexible communications solutions to improve professional productivity and enhance personal lifestyles.
UTStarcom Personal Communications (formerly Audiovox Communications Corp.) provides wireless communications devices including handsets, PocketPCs and wireless modems to carriers throughout North and South America and supplies every CDMA carrier in the U.S. and Canada. The company's products are manufactured by its parent company, UTStarcom, Inc. (NASDAQ: UTSI), and by third-party original equipment manufacturers. UTStarcom Personal Communications Division is based in Hauppauge, New York, and maintains offices and support facilities throughout the U.S., Canada and Latin America.
UTStarcom, Inc. is a global leader in IP access networking solutions and international service and support. The company sells its wireline, wireless, optical and switching solutions to operators around the world. Founded in 1991 and headquartered in Alameda, California, the company has research and design operations in New Jersey, China, and India.