Speakal announced the Cool iPig Apple-certified iPod speaker dock, offering a remarkably unique design with chrome accented sunglasses, cutely perked ears, and 4 piggy hooves. The new Cool iPig is an update to the original iPig offered in white, pink, yellow and limited edition black.
The Cool iPig features an industry-first, user-friendly, advanced motion detection technology that allows you to control volume, skip tracks, play/pause your music simply by waving your hand in front of sensors around the ears, sides and nose. Speakal also includes a remote for full control when sitting across the room. The Cool iPig can entertain on-the-go, packed with a lithium-ion battery good for up to 8 hours of continuous playback.
Cool iPig is no slouch when it comes to fidelity with extraordinarily bright sound and booming bass. It features 23 W of total sound power with a built in 15W subwoofer with bass reflex technology. Chocked full of options for media playback, the Cool iPig is iPhone and iPod certified and features a 3.5mm input allowing easy connection to virtually any music source.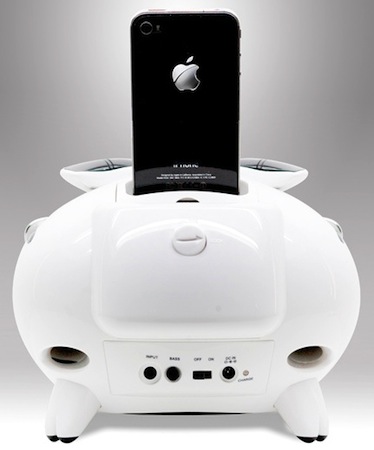 "The Cool iPig delivers enhanced sound quality, the most remarkable dock design on the market, portability, and the world's first motion sensing technology speaker controls."
— David Solomon, Speakal CEO
Features
Plays and charges all iPhones (Including iPhone 4 with iOS4)
Plays and charges all iPods with dock connectors
Motion sensing volume and music controls
Removable / Rechargable Lithium battery for 6 hours of operation
Total output of 23+ W
2.1 Stereo Speaker System
Full sound separation and amplification
Built in 15W powered subwoofer
Airflow optimized design for consistent sound performance
Bass Reflex System
Adjustable base control
Remote control for unit and iPod/iPhone operation
Plays other sources via 3.5mm input connector
ROHS compliant, Eco-Friendly material and components
Price and Availability
The Cool iPig is available for now for $159.99 at Amazon.com. Check for a lower price.