Jaton had a very successful show this year at CES 2007 High performance Audio category. Also very grateful that THIEL AUDIO can lend us a pair of CS 3.7 speakers to perform a wonderful demo over the Venetian Hotel too.
Our Operetta modular amplifier got a lot of positive feedbacks from all Guests. The Soundstage!Network selected our Operetta Amplifier and RC7000P 7.1 Channel Pre-Amp on their ShowStoppers section of CES 2007.
Please click the following link for detail information:
http://www.soundstage2.com/lasvegas2007/showstop01.html
We like to thank all the visitors and special thank to THIEL AUDIO for their supporting. Also we're so honored that our new Operetta Amplifier and RC7000P Pre-Amp can became the ShowStoppers this year from Soundstage!Network too.
Jaton will continue to develop more of Operetta Amplifiers and delivery more high performance products to the public. Here is the 2007 product designing roadmap of Operetta Amplifiers.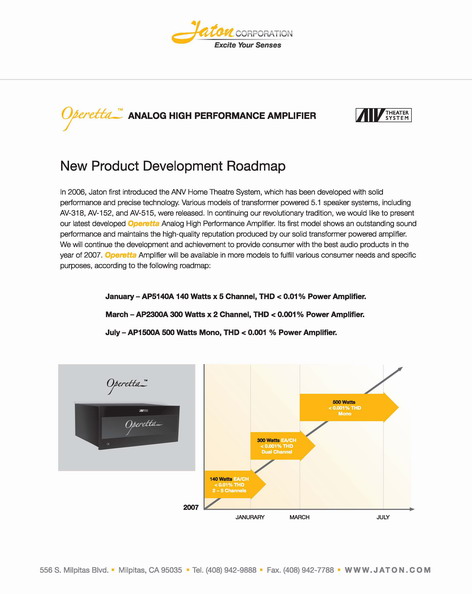 Please feel free to contact us or visit www.jaton.com if you like to know more about Jaton and our products.