Products Available on Amazon.com in Late Summer 2007
Soundcast Systems, a leading provider of revolutionary wireless audio transmission systems, today announced that their new breakthrough products – SpeakerCast™ and OutCast™ – will initially be available to consumers nationwide through Amazon.com and Soundcast's own Web site, http://www.soundcastsystems.com, as well as at a number of retailers nationwide later in the year. Both products are designed to offer the highest-quality wireless transmission from digital music players or personal computers to any room in your house, as well as outdoors.
SpeakerCast is a high performance wireless stereo speaker system that relies on Soundcast's technology to receive crystal-clear, uninterrupted music via an iPod™ when it is placed in the included Soundcast iCast™ wireless dock. Other audio devices such as MP3 players or computers can also be connected using the auxiliary input/output jack. Leveraging the same technology, OutCast is an all-weather, full range, battery/AC-operated wireless speaker system that is ideal for outdoor use, and also includes the iCast wireless dock.
"Soundcast's focus continues to be on delivering products that guarantee unprecedented sound quality for consumers," said Rusty Bennett, vice president of Soundcast Systems. "These two new products – OutCast and SpeakerCast – represent our unique ability to offer crystal-clear wireless transmission, incredible sound and the ease-of-use necessary to provide the ultimate listening experience. Further, these products offer a nice aesthetic option for individuals wishing to incorporate a sense of style into their home theater environment."
About SpeakerCast
SpeakerCast is a small, amplified stereo speaker enclosure incorporating two 3″ full range drivers, a 50 watt digital amplifier and the Soundcast receiver. Power is supplied by the internal AC power supply. The initial version, to be released summer 2007, will include the iCast transmitter, which offers a docking station for the iPod, and includes an auxiliary input/output jack which will permit the use of other audio devices.
SpeakerCast features pause/play and track forward/track back controls for remote operation of the iPod. The included remote also highlights these features, in addition to on/off, muting, and volume up/down. Later versions of SpeakerCast will include a universal AudioCast transmitter for use with additional music sources such as computers and other MP3 players.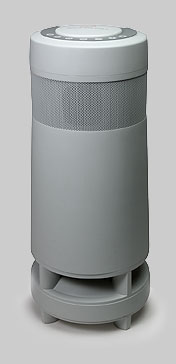 About OutCast
OutCast is an all-weather outdoor speaker system designed to provide high performance full range music in the yard or patio. It features an 8″ downward firing woofer, four 3″ high frequency drivers in an omni-directional array, a 100-watt digital amplifier and the Soundcast receiver. OutCast is made of water-resistant plastic and is designed to operate for up to 10 hours on the built-in, rechargeable battery pack. It has an internal AC power supply that can recharge the NiMH battery pack while operating the OutCast system simultaneously. As with SpeakerCast, the initial version of OutCast will include the iCast transmitter and be oriented to iPod users. This version of OutCast also has buttons for pause/play and track forward/track back for remote iPod operation. All OutCast systems have controls for volume, on/off, and mood lighting. These systems also include an input jack for direct connection of an MP3 player, which is very useful for playing music directly from any MP3 system.
With effortless plug and play installation, no complex programming and a simple, sleek interface, SpeakerCast and OutCast can extend the utility of consumers' music files by linking the music resource to a distant location. Each speaker system is fully self-contained with internal amplification, full range speaker complements and the Soundcast receiver. Unlike competing solutions available to date, both products effectively eliminate outside interference caused by other household devices that share the crowded 2.4GHz band, including microwave ovens and cordless phones. The result is full range, high performance sound any place you want it – in the home, yard, patio or by the pool.
All Soundcast products can transmit signals up to a distance of 150 feet through multiple rooms indoors and over 350 feet outdoors. Soundcast systems co-exist with other devices operating in the 2.4GHz band, including Bluetooth, 802.11 and related products. Based on Frequency Hopping Spread Spectrum (FHSS) technology, Soundcast's engineering team has refined its patent-pending wireless technology to allow transmitters to search for open channels in the 2.4GHz band, and instantaneously jump to them – ultimately avoiding interference and allowing for unprecedented sound quality.
As many as three Soundcast systems can operate in close proximity. By achieving this level of quality of service, Soundcast products can now be securely used in high-density multi-unit dwellings (MUD). Each Soundcast transmitter can operate with two receivers, allowing the creation of multi-zone systems.
Pricing and Availability
SpeakerCast will be available in the third quarter of 2007 with a targeted retail of $399. OutCast will arrive late in the third quarter of 2007 and retail for $699. Additional versions are slated for release later in the year. Both products will initially be available on https://www.amazon.com and http://www.soundcastsystems.com. SpeakerCast and OutCast will also be available at a number of retailers across the country at a later date.
About Soundcast Systems
Soundcast Systems is a privately funded wireless technology company offering revolutionary plug and play wireless audio transmission systems that overcome 2.4GHz band interference, and empower digital music enthusiasts to listen to music in high-quality sound throughout the home. In 2005, the company developed a unique 2.4GHz audio transmission technology that prevents transmitted signals from being distorted by outside interference such as cordless phones and microwave ovens. Since then, Soundcast has developed easy to install, modestly priced, high-performance wireless audio transmission systems that send tunes wirelessly from an audio source (such as a digital music player) to an audio sound system anywhere in the home. In 2006, Soundcast announced iCast and AudioCast, which play high-quality audio from digital music players throughout the home. iCast is designed to work exclusively with the iPod™, while AudioCast is compatible with non-iPod devices. Without compromising audio quality, Soundcast makes going wireless easy.