Unique Acoustic Advances and the Latest in Bluetooth Convenience
Providing mobile consumers with a new way to enjoy hands-free communications, Sound ID today announced that the Sound ID 300 Bluetooth headset will be available through AT&T, both in retail stores nationwide and online, as of April 15, 2009.
With a high gloss piano black finish, the lightweight Sound ID 300 displays a sophisticated design and differentiates itself from other Bluetooth headsets with innovative functionality, including NoiseNavigation™ and PersonalSound™. NoiseNavigation™ provides clear audio through the automatic reduction of background noise, while PersonalSound™ allows users to select from three listening modes that enhance speech clarity without raising the volume.
"Created by our experienced team of hearing specialists and acoustic scientists, the Sound ID 300 brings an in-depth knowledge of the human ear to the Bluetooth arena," said Michael Jones, President and CEO of Sound ID. "We believe its unique feature set, pristine sound clarity and exceptional comfort make it the ideal complement to any Bluetooth-enabled phone."
Among the Sound ID 300's technology features, users will enjoy:
NoiseNavigation™ — This proprietary development optimizes speech intelligibility at both ends of the conversation, as dual microphones isolate speech and DSP algorithms automatically reduce wind and background noise.
PersonalSound™ — Users can choose from three listening modes — tuned to the most common hearing preferences — to further enhancing speech clarity without raising the volume.
Automatic Volume Control — This feature eliminates the need for constant volume adjustment in variable noise situations such as driving.
Universal Charge — Users no longer need to carry multiple chargers, as the Sound ID 300 can be charged by standard micro USB chargers.
Secure Pairing — The Sound ID 300 supports secure pairing with Bluetooth 2.1 handsets for simplified mating of the phone with the headset.
RealComfort™ EarLoops — Created for extended wear, the headset comes with scientifically designed EarLoops to provide a secure and comfortable fit and better channel sound into the ear for enhanced listening.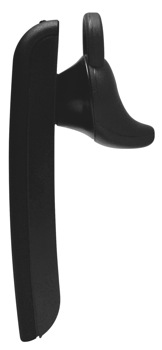 Sound ID 300 Specifications
Lightweight: 8 grams (0.28 ounces)
Dimensions: 53.5 x 15.5 x 7.5 millimeters (2.1 x 0.6 x 0.3 inches)
Powerful Battery Life: Up to 6 hours talk time, 220 hours (9 days) standby
Latest Bluetooth Technology: Bluetooth version 2.1+EDR with eSCO improves the transmission sound quality and is compatible with earlier versions of Bluetooth.
Pricing and Availability
The Sound ID 300 will be available at AT&T retail stores and online at www.wireless.att.com on April 15, 2009. The headset has a MSRP of $119.99 and is currently being sold at AT&T for $99.99. It comes with a Universal AC charger (100-240 VAC), USB charging cable, three sizes of RealComfort EarLoops and an Ear Hook for an alternative over-the-ear wearing option.