Soonr Announces New iPhone Application That Gives Business Users Easy Access and Use of Their Computer Files Everywhere They Go
Soonr, an innovator in mobile cloud services, today announced the launch of the world's first iPhone application that uses the power of cloud computing to keep business people in touch with their documents anywhere they go. A free version is available starting today from the Apple App Store with expanded versions offered through leading mobile operators and SaaS providers.
Just as today's mobile phones let you send and receive emails while on the go, Soonr now makes the documents on your Mac or PC completely mobile. Whenever your computer is online, Soonr automatically and instantly backs up your files in your "personal cloud," making them always available to you. iPhone users get a crisp, clear view of all their documents — whether they are Word, Excel, PowerPoint or virtually any other file type — along with the ability to collaborate and share, and even print to a remote printer right from their iPhones.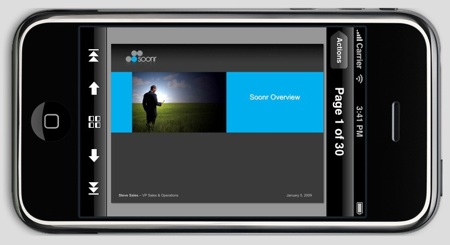 Unlike other applications with limited functionality that require you to remember to upload your files every time you change them, Soonr automatically maintains the latest versions of all your key documents in the cloud. Soonr's powerful rendering software works across a wide range of document formats, so mobile workers don't have to download specific programs to view their documents as required by other applications. Documents are beautifully rendered and pages can instantly be previewed as thumbnails. And since the document resides in the cloud and not on the iPhone, accessing and viewing is amazingly fast.
All of Soonr's capabilities are available to you, even when host computers are sleeping or powered off. As a bonus, since Soonr continuously and securely backs up your documents to your personal cloud, they are easily restored in case of computer failure or loss.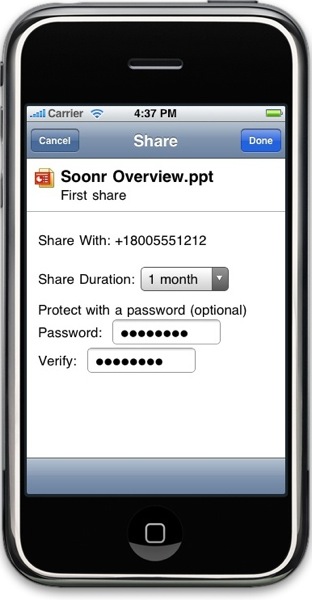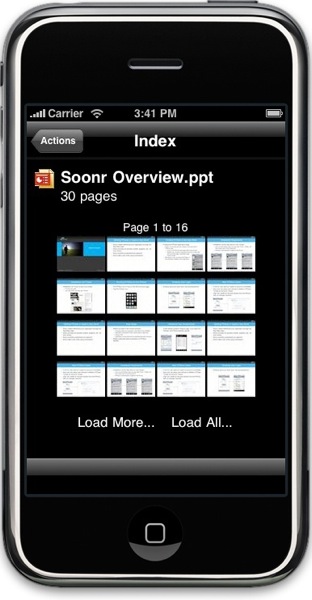 Sharing documents via Soonr is easy and can be done in several ways. Users can send a document from their iPhone to anyone by simply entering the person's mobile phone number or email address. Fellow Soonr users can create workgroups and share, view and comment on documents –almost instantaneously and without using email. They can also share printers. When sharing files, users also have the option of notifying a recipient of a share via SMS or email.
See a video demonstration of Soonr for the iPhone

Here's an example of Soonr in action. Imagine waiting for your vacation flight, and your boss calls needing your Q1 budget spreadsheet now. You don't have your computer, no one else has a copy, and everyone's waiting. With a few taps on your iPhone, you find the latest version of your budget, add a note of explanation and forward it through Soonr to your boss. You even print a copy directly to the CEO's printer from your iPhone. Everything is handled in minutes, and you are now free to enjoy your vacation.
"With Soonr on your iPhone, your computer files are always available to you, right in palm of your hand, where you can take action on them," said Patrick McVeigh, Soonr's CEO. "By harnessing cloud computing and making it mobile, Soonr on the iPhone provides a seamless way to have better productivity and control while on the move."
In addition to the free version offered on the App Store, the new Soonr iPhone application is available as a richly-featured white label service through mobile operators and SaaS providers. TeliaSonera Denmark launched their version of Soonr's iPhone application called Sky Files in November and within days it was ranked the 4th most downloaded business application in the Apple App Store in Denmark. Additional partners in the United States and Europe are expected to offer the Soonr service in early 2009.
Operators interested in finding out how to offer their own brand of the Soonr iPhone application can go to partnership@soonr.com.
About Soonr
Soonr is committed to providing new and better ways to work today, tapping into the power and ubiquity of cloud computing. Innovative Soonr technology makes computer files available and useful anytime, through the iPhone or any mobile phone or Internet connected device. The service also features powerful, yet simple new ways for workgroups to collaborate from anywhere. Soonr offers mobile operators and SaaS providers a platform of integrated, premium white label mobile cloud services and a compelling revenue model. Founded in 2005 by Silicon Valley veterans who have played a defining role in today's Internet technologies and mobile and wireless service development, Soonr is supported by blue chip investors such as Cisco, Intel and Clearstone Venture Partners. www.soonr.com.