For 2012, Sony announced four new 2-DIN in-dash A/V car receivers featuring smartphone connectivity, superior display technology, and an advanced interface design.
The new XAV-701HD (photo above) and XAV-601BT in-dash A/V receivers feature high-quality WVGA panel displays with full touch screen capability and universal smartphone connectivity, enabling users to control music and apps on their compatible smartphones. Sony plans for the A/V recievers to undergo MirrorLink testing and certification. MirrorLink is a technology standard developed by the Car Connectivity Consortium that enables streaming of compatible smartphone screen content to in-dash receivers, facilitating control of applications and music on the receiver's touch screen.
The new head units also feature Passenger App Control, which allows connection of an iPhone or iPod (via USB) to project video and compatible applications onto the screen of the receiver. In addition, the receivers support projection and control of GPS by Telenav, a leading navigation application available from the App Store on iTunes.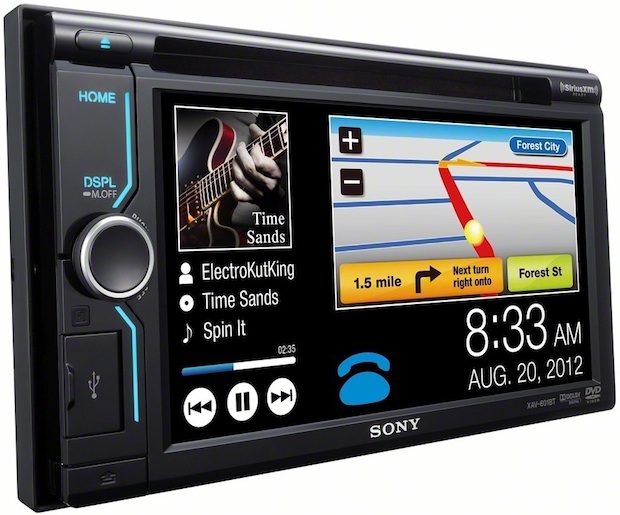 Sony XAV-601BT
For map guidance without a smartphone, an optional TomTom navigation system with external GPS unit upgrade is available on the reciever, providing access to pre-loaded maps of the United States and Canada.
Both head units feature an advanced graphical user interface with three-dimensional screen visualizers and ultra-fast response. Users have the freedom to customize the receiver's wallpaper or choose from a number of preset screen visualizers. The interface also displays album artwork during music playback.
The systems work with Pandora on iPhone, Android, and Blackberry phones, and are SiriusXM Satellite Radio ready. Sony's Advanced Sound Engine allows customization of audio settings for an optimal listening experience. In addition, the XAV-701HD model features a built-in HD Radio tuner with iTunes Tagging, while the XAV-601BT model has a fully detachable faceplate.

Sony XAV-64BT

Sony XAV-63
Rounding-out the lineup, the entry-level 2-DIN XAV-63 and XAV-64BT head units feature 6.1-inch high-quality WVGA displays and passenger app control for iPhone and iPod. Similar to the higher-end units, each features an enhanced interface with fast response time. The XAV-64BT model also provides Bluetooth connectivity, supporting Pandora Internet radio for Android and Blackberry phones.
Price and Availability (available spring/summer 2012)