Sony Delivers Fashion-Forward Notebooks Beginning at a Very Attractive Price
Sony Electronics today unveiled a line of fashionable, entry- level PCs — the VAIO NR series starting at about $750 — which is the lowest-priced notebook the company has ever introduced.
The new series is available in three colors: Wenge — a rich brown with copper accents; silk — a bright white with a matte finish; and granite — a silver hue with natural tones.
The notebooks feature a textured chassis with a comfortable, fabric-like feel that is pleasing to the eye and cool to the touch. Their slim, modern design incorporates rounded corners and beveled edges, making them easier to insert and remove from carrying cases when on-the-go.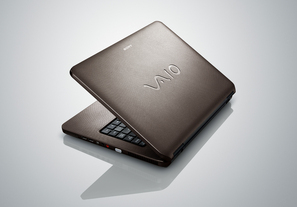 The NR models feature a 15.4-inch (measured diagonally) widescreen display with XBRITE-ECO™ LCD technology, which delivers razor-sharp details and crisp, bold colors.
The PCs also incorporate an Intel Core™2 Duo processor (on select models) for fast processing speeds, longer battery life and enhanced wireless computing. The units come pre-installed with Microsoft Windows Vista Home Premium.
"These new notebooks offer our trademark, head-turning designs along with cutting-edge technologies at an affordable price," said Mike Abary, senior vice president of VAIO product marketing at Sony Electronics.
The PC's built-in 802.11 a/b/g wireless LAN enables wireless connectivity to home networks or hotspots at airports, hotels or cafes for quick access to the Internet and e-mail.
Entertainment on Your Terms
The NR model allows you to conveniently access your music, movies and the web. Its integrated A/V mode launches a dedicated media menu putting your entertainment within easy reach by letting you select up to nine of your favorite programs from a single location.
The NR series also comes loaded with LocationFree software so you can "place-shift" live TV, access your personal video recorder or DVD player, and view that content on the notebook via the Internet (a base station and broadband connectivity are required).
With an advanced DVD and CD burner, backing up data, music and videos is a breeze. You can record up to 8.5GB of home videos, movies, music, or digital photos on one double layer DVD disc. And with included Click to DVD software, you can present your digital video content in a professional-looking package — complete with interactive menus and customized themes.
Easily transfer data, including photos from your digital camera, to and from your PC with a multitude of connectivity options including four USB ports and ExpressCard, SD card and Memory Stick PROTM slots. The unit also comes with a suite of software applications, making importing, viewing and cataloging digital images a "snap."
The VAIO NR series will be available online at www.sony.com/pr/nr. It will also be sold at Sony Style stores, authorized retailers nationwide and military exchange bases starting next month.