Sony announced its first tablet called the Sony Tablet S (previously known as S1) is available for pre-sale today and will be in stores next month. The Tablet S offers a 9.4-inch touchscreen display, NVIDIA Tegra 2 mobile processor, Wi-Fi (no 3G or 4G), and is powered by Android 3.1 (upgradable to 3.2). It features front and rear facing cameras that allow for video recording and capturing still images and supports micro USB interface and SD card.
Sony says its Tablet devices are distinguished by four key features that set them apart from any other tablets on the market. These include: optimally designed hardware and software, a "swift and smooth" experience, network entertainment services and cross-device functionality.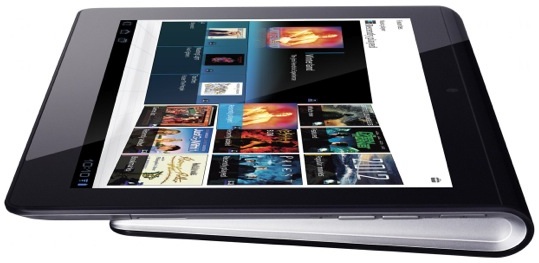 Unlike other tablet devices, Sony Tablet S device has an ergonomic, asymmetric design which allows it to be easily held or carried for long periods of time. The unique form factor shifts the device's weight closer to your palm, making it feel lighter and more comfortable while reading an e-book or watching a video. The screen is sloped when placed on a flat surface, enhancing visibility and making typing more comfortable. Placing a Sony Tablet S device onto a specialized charging cradle (sold separately) converts the device into a digital photo frame, a digital clock that displays customizable information or chumby with access to over 1,500 fun and entertaining apps.
The Sony Tablet S is with Sony's TruBlack displays which reduce reflection and glare from sunlight or fluorescent light for high-contrast visibility both indoors and out.
Networked Entertainment
Sony Entertainment Network services: Video Unlimited is your ticket to the latest releases from every major movie studio to rent or own. A pre-open campaign for the Sony Tablet devices will be offered at device launch with limited content and more content will continue to be released over time. Music Unlimited, available in October, offers instant access to a global catalog of over 10 million songs from every major record label (numbers vary by country). Simply sync to the cloud and enjoy the music you love on Sony Tablet devices or any other Internet-enabled Sony device. A six month trial basic membership from Music Unlimited and a free movie download from Video Unlimited come with the purchase of each device.
PlayStation Certified: Sony Tablet devices are the first PlayStation Certified tablets that provide out-of-the-box gaming with included favorites "Crash Bandicoot" and "Pinball Heroes."
Reader Store: Access bestsellers, new releases, classics, magazines and more from more than 2.5 million titles at Reader Store by Sony. The store's intuitive reading interface is ideal for on-the-go reading, allowing book lovers to set bookmarks, make highlights and adjust font sizes as they read. A free eBook download is included with the purchase of the device.
Personal Space by Sony: This free service allows you to easily share pictures and videos captured on Sony Tablet devices. You can also access albums that were previously uploaded from other devices.
Video, music, games and other content can be directly accessed by way of the "Favorites" menu without the need to re-launch any of the respective applications.
Cross Device Connectivity
Control your home entertainment system and enjoy content in new ways. With Sony Tablet devices, you can "throw" personal pictures and video to DLNA compatible televisions such as BRAVIA HDTVs with the touch of a button. You can also throw music to compatible wireless speakers such as Sony's HomeShare speakers. The Sony Tablet S device, which is equipped with infrared technology, can act as a remote control for multiple home entertainment components such as TVs, Blu-ray Disc players, cable and satellite boxes, and more. The built-in Universal remote not only controls your Sony products, but other brands as well. Sony Tablet S device is the world's first Android Tablet running Honeycomb with a built in A/V remote control. Sony Tablet devices are compatible with the Media Remote app which allows you to control Sony devices, including BRAVIA televisions, through Wi-Fi technology.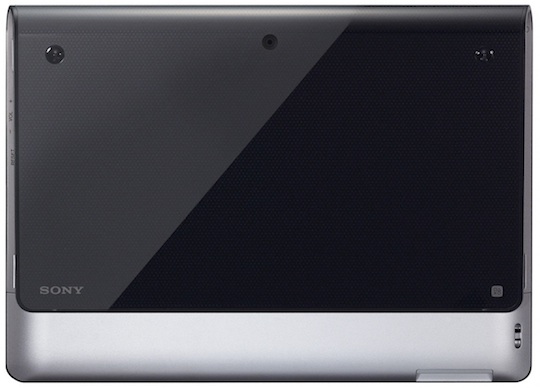 Pricing and Availability
The Sony Tablet S device is available in two versions September 2011:
See more about: Tablets, Sony, Sony Tablets