Take your favorite comics everywhere you go with Digital Comics for PSP
Sony Computer Entertainment Europe (SCEE) and Sony Computer Entertainment America (SCEA) today announced the digital reader for PSP (PlayStationPortable), a new service that will allow PSP owners to access a range of media on their PSP. The digital reader service will be launched with Digital Comics this December in select countries, the U.S., and regions in Europe with other PAL territories to follow in 2010, putting PSP owners in control of a huge library of Digital Comics from provider partners including one of the leading comic publishers, Marvel Entertainment. Content from other partners such as IDW Publishing, iVerse Media and others, as well as graphic novels for bite-sized entertainment on demand and on the go will be available.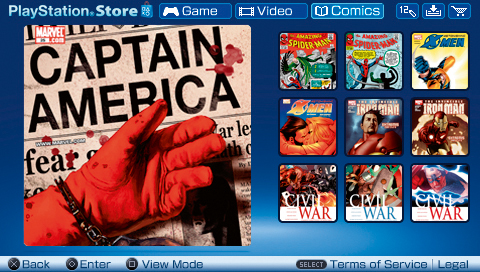 The new Digital Comics service will let you download hundreds of classic and new comics from PlayStationStore to your PSP, to read page by page or frame by frame wherever you are. The service lets you take a huge collection of comics out and about with you, allows you to pick up the latest edition from any Wi-Fi hotspot, and gives you a brand-new way to use your PSP for entertainment on the go.
The digital reader for PSP will offer the biggest names in comics, including content from Marvel Entertainment's Spider-Man, X-Men and the Fantastic Four, from IDW: TRANSFORMERS and Star Trek and in partnership with iVerse Media, brands like Archie Comics, and Image Comic's Proof, while other content will include graphic novels, comics from a variety of local publishers and the latest underground sensations. More and more titles will arrive on PlayStation Store with monthly content updates, offering a huge choice of quality titles at your fingertips, allowing you to take your favorite comic characters with you on the move.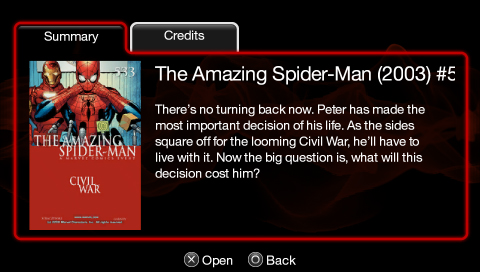 "This is a great new service that offers PSP owners even more options for entertainment on the go and makes PSP a must for comics fans," says Isabelle Tomatis, European Marketing Manager, Hardware and Platforms, Sony Computer Entertainment Europe. "Digital Comics will sit alongside the new PlayStationNetwork video download service as yet another way that PSP offers a whole world of entertainment in your hands."
"PSP's new digital reader offers an unprecedented consumer experience that will extend the world of Marvel from print pages into the hands of fans around the world. We are excited to be part of this launch," said Ira Rubenstein, executive vice president, global digital media group, Marvel Entertainment.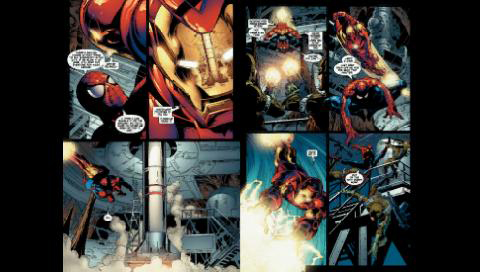 The intuitive Autoflow feature allows you to zoom in and move from frame to frame on each digital page, mimicking the way your eyes would move across a print page from left to right. It's straightforward and simple to use, and thanks to PSP's high contrast LCD screen, your comics will be looking better than ever as the stunning graphics leap out from the screen.
Digital Comics will be launching on the UK, US, Irish, Australian, New Zealand and South African PlayStationStores this December, with other PAL territories to follow, and with more and more comics and graphic novels arriving every month. Consumers will first need to connect their PSP via Wi-Fi to the PlayStation Store to download the digital reader. Once downloaded, they can return to the PlayStation Store to choose from a wide variety of comics available.