USB Card Reader Transfers Files to Your PC; Also Plays Videos, Photos on Select Sony TVs
It's never been easier to transfer photos and videos from your digital camera, camcorder or smartphone to your PC. What's more, you can now play back videos and photos taken with Cyber-shot or Handycam directly on your USB-equipped BRAVIA TV, with no connecting cables needed.
There's now a compact memory card reader family from Sony – headed by the new MRW-F3 — that simplifies file transfer between today's digital devices. An essential add-on for your PC or notebook, they're also great for connecting with BRAVIA, PlayStation3 or Blu-ray Disc players by Sony that include a USB port for simple playback of movies and photo.
The memory card reader models offer the simplicity of 'driverless' plug-and-play operation, and support Hi-Speed USB 2.0 connection for rapid data, picture and music transfers. Available for free download from http://support.sony-europe.com, Drive Letter Recognition Software clearly identifies each slot of the card reader by name when it pops up on your PC's desktop, avoiding any 'which drive?' ambiguity when you've got multiple devices mounted.
MRW-F3: play HD movies* and photos on BRAVIA, Blu-ray Disc players and Playstation3
The light, easily pocketable MRW-F3 memory card reader is ideal for transferring/backing up digital files to your PC. What's more, it's the only card reader by Sony that gives playback compatibility with HD movies and photos on your BRAVIA TV. Just slip in your memory card from your digital camera or camcorder and connect the F3 directly to the USB port of your BRAVIA.
Supporting the high-speed 8-bit parallel interface used by Memory Stick PRO-HG, the F3 dramatically cuts transfer times for HD movies and other large files when using Memory Stick PRO-HG Duo HX media by Sony.
*Note: HD video playback is not guaranteed with all BRAVIA and Blu-ray Disc player models.
The F3 features a simple, single card slot that can accept a wide range of Memory Stick, SD and MMC media formats, including higher-capacity SDXC cards or high-speed UHS-I SD cards.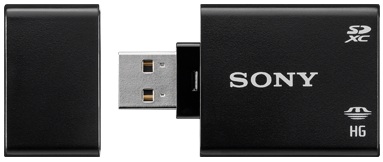 MRW-F3 Features:
Fast data transfers and HD movie/photo playback compatibility on BRAVIA*
Supports wide range of Memory Stick and SD card formats
Plug and play with no driver installation needed
Complete family of compact USB memory card readers
This memory card reader is joined by the MRW-EA7 ($29.99), MRW-S2 (check price) and MRW-T2 (check price) that connect to any spare USB port via a short cable connection (supplied). All cabled models provide separate slots for Memory Stick, SD and MMC media, simplifying PC back-ups or transfers from one card to another. Elegantly styled in aluminium, the premium EA7 offers no less than five separate card slots, while the great value S2 and T2 offer four and two card slots respectively.
The new range of memory card readers by Sony is available now. The Sony MRW-F3 is $14.99.
Memory Card Readers – media compatibility
Model
Slots
Memory Stick Pro Duo
Memory Stick PRO-HG Duo
M2***
SD/SDHC
SDXC
microSD/
microSDHC
CF
SM
xDP
EA7
5
OK
OK**
OK
OK
–
OK
OK
OK
S2
4
OK
OK**
OK***-
OK
–
OK***
OK
OK
OK
T2
2
OK
OK**
OK***-
OK
–
OK***
–
–
–
F3*
1
OK
OK
OK***-
OK
OK
OK***
–
–
–
D1
1
OK
OK**
OK***-
OK
–
OK***
–
–
–
* MRW-F3 offers TV compatibility
** Can work as Memory Stick PRO Duo (4bit parallel)
*** Requires adapter