Up to 16GB capacity and 31MB/s read transfer speeds in a compact and unique design
Sony Europe's Recording Media & Energy (RME) division today announced its MicroVault™ Click and Click Excellence ranges with both mid-range and high-end device availability. The new MicroVault™ Click line-up offers advanced performance with increased storage capacity, high speed data transfer rates1 and Windows ReadyBoost™ compatibility; to improve PC memory performance on Windows Vista™ Operating System without installing additional RAM. Users can simply click, plug and share their documents, pictures and video clips and keep important files to hand whilst on the move.
Both the MicroVault™ Click and Click Excellence ranges incorporate a neat 'click' design to uncover and retract the USB connector for quick and easy use.
For ultra fast data transfer rates and storage capacity from 2GB up to 8GB2, the MicroVault™ Click Excellence is designed with business professionals in mind. With up to 31MB/s read and 11MB/s write speeds3 heavy business files can be transferred easily to share with colleagues and clients via Hi-Speed USB 2.04 connectivity. The MicroVault™ Click Excellence range is available in a stylish, compact, ivory design, complete with LED indicator display which illuminates while transferring the data.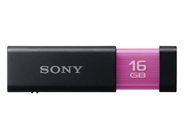 With high capacity storage as a focus, the bright mid-range MicroVault™ Click has a reduced form factor from its predecessor and is lighter at approximately 9 grams. The colourful line-up offers Hi-Speed USB 2.0 data transfer and storage capacity from 2GB up to 16GB2. The MicroVault™ Click range has a bright design, with one colour per capacity via an LED indicator light.
For advanced performance, the Sony MicroVault™ Click range offers Windows ReadyBoost™5 compatibility, allowing Windows Vista to use part of the MicroVault's™ memory to speed up system performance without additional RAM. Sony's pre-installed Virtual Expander6 compression software allows storage of up to 3 times more data, depending on the file type and content.
The MicroVault™ Click and Click Excellence ranges are available from May 2008 and come with 5 years European warranty.
Sony and MicroVault are trademarks of Sony Corporation.
Transfer speed may vary by model type, based on the PC environment and types of files.
MicroVault media contains a system management area. Actual usable capacity is less than the amount shown on the device. Capacity is based on 1GB=1 billion bytes.
By USM4GLX. Transfer speed may vary, based on the PC environment and by model.
To use the device in USB2.0 high speed mode, you need to connect to a computer which supports USB2.0 and has a USB2.0 card or board.
Windows and ReadyBoost™ are registered trademarks of Microsoft Corporation in the United States and/or other countries. Macintosh and Mac OS are trademarks of Apple Computer, Inc.
Compression rate may vary, according to the file types and contents.