Sony Ericsson today announced three new Bluetooth™ Headsets: HBH-IV835, HBH-GV435 and HBH-PV705. Excelling in many different ways, they all deliver outstanding sound performance worthy of Sony Ericsson's Bluetooth™ headset pedigree. Like all Sony Ericsson wireless headsets they have been developed in co-ordination with Sony Ericsson mobile phones but are compatible with Bluetooth™-equipped handsets, computers and PDAs from other manufacturers also.
"These three excellent wireless headsets really allow our users to get more from their busy lives," says Ulf Persson, Corporate Vice President Accessories, Sony Ericsson. "Anyone can hear the remarkable sound quality and see the attractive design for themselves. The new wearing solutions we are introducing to the range are extremely comfortable, enabling people to use the headset all day long. We expect these new headsets will inspire people to a wireless headset solution through Sony Ericsson's perfect match of design and functionality."
Bluetooth™ Headset HBH-IV835 — Small size, superior sound.
The HBH-IV835 is more than merely attractive — it delivers clear digital sound performance and is ultra-stylish and ultra-small. A hook-less, push-in wearing solution is the natural complement to its glossy black, compact pen form. Using HBH-IV835 is a statement in stylish discretion and the user benefits from the very latest wireless technology. Digital Signal Processing (DSP), fast automatic volume adjustment and Bluetooth™ 2.0 are technical elements which make sure that both you and the person you are talking to will notice a clear improvement in sound quality. Sony Ericsson's Auto pairing™ function can connect your headset to your Sony Ericsson phone as soon as you activate Bluetooth™, while redialing makes wireless calling even easier. The HBH-IV835 is the stylish choice for clear digital sound. Available from mid-Q2 2006.
Bluetooth™ Headset HBH-GV435 — Clear digital sound and lasting comfort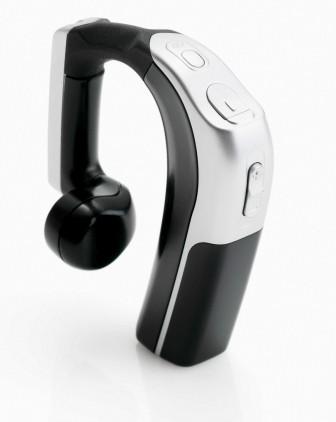 If you have a working day filled with phone calls, this is the ultimate Bluetooth™ headset. Whether you are in a busy office or a loud factory, this headset makes sure that you can hear your caller loud and clear — and that you can be heard too. DSP makes the sound crisper and clearer, fast automatic volume adjustment quickly changes the volume depending on the situation, while Bluetooth™ 2.0 guarantees the best and most stable link to your phone possible. The new discreet design hides snugly around your ear without a visible boom, meaning those around you might not notice you are actually wearing a headset at all. It is so comfortable you might forget that you are using it yourself. Add features like Auto pairing™ and redialing to the remarkable talk and standby time and you have a stylish, trustworthy workhorse to get you through the working day. Available from early Q3 2006.
Bluetooth™ Headset HBH-PV705 — A powerful wireless headset with compact design


The HBH-PV705 is almost too good to be true. Its competition-beating performance and light weight is truly remarkable for a headset in its price range, all wrapped up in a compact pen form in discreet yet stylish colors. It's so light it can rest on your ear comfortably while its powerful talk time lets you use it an entire day, or be carried around your neck with the included strap. The actual ear piece does not cover your ear canal, so you can talk to people around you without taking your headset off. The HBH-PV705 builds on years of Sony Ericsson experience and test results when it comes to technology and design, giving the user all the benefits of Sony Ericsson technology at an extremely competitive price, combined with outstanding talk and standby times. Available from early Q3 2006.
Facts and Figures for Bluetooth™ Headset HBH-IV835:
Kit contents:
Bluetooth™ Headset HBH-IV835
Standard Charger CST-61
User Guide
Strap with quick release
Facts:
Weight: 10 g /0.35 oz
Color: Matt black, glossy black and silver
Talk time: Up to 3.5 hours
Standby time: Up to 160 hours
Facts and Figures for Bluetooth™ Headset HBH-GV435
Kit contents:
Bluetooth™ Headset HBH-GV435
Standard Charger CST-61
User Guide
Strap
Facts:
Weight: 18 g/0.63 oz
Color: Matt black, glossy black and silver
Talk time: Up to 8 hours
Standby time: Up to 300 hours
Facts and Figures for Bluetooth™ Headset HBH- PV705:
Kit contents:
Bluetooth™ Headset HBH-PV705
Standard Charger CST-61
User Guide
Strap
Facts:
Weight: 14 g /0.49 oz
Color: Silver / sand
Talk time: Up to 12 hours
Standby time: Up to 300 hours
The Bluetooth™ Headsets HBH-IV835, HBH-GV435 and HBH-PV705 are the newest additions to the complete portfolio of Sony Ericsson Bluetooth™ Headsets. The range includes the Stereo Bluetooth™ Headset HBH-DS970, Bluetooth™ Headset HBH-610a, Akono™ Headset HBH-608 and Bluetooth™ Headset HBH-PV700