Sony DSC-W370 (see more photos below)
Feature Sweep Panorama Technology, Slim Design, and Wide-Angle Lenses for High-Quality Images and Videos
Sony just announced five new compact Cyber-shot digital cameras which include two new 14-megapixel Cyber-shot cameras (models DSC-W370 and DSC-W350) with a CCD image sensor that provides the innovative Sweep Panorama™ feature in a slim, compact body, making it easy to get the best shot. Plus three new cameras (models DSC-W330, DSC-W310 and DSC-S2100) that offer a new thin, stylish design with advanced features such as longer zoom and wide-angle lenses, which provide versatility when shooting.
"We're expanding Sweep Panorama, which has been such a well received feature, to our more affordable models," said Kelly Davis, director of the Digital Imaging business at Sony Electronics. "Allowing users to capture the impact of a full panoramic scene with an easy to use, practical camera provides a great value to our customers."
Innovative Sweep Panorama™ Technology
Sweep Panorama mode, first introduced in Sony's breakthrough Cyber-shot DSC-HX1, DSC-TX1 and DSC-WX1 CMOS models, utilizes a CCD sensor to capture dramatic panoramic scenes. The W370 and W350 cameras shoot images continuously to capture wide landscapes or tall buildings in one easy "press and sweep" motion. They automatically stitch the images together to create one stunning panoramic photo.
The W370 and W350 Cyber-shot models can take up to 243 and 268-degree panorama shots, respectively, in one easy press-and-sweep motion with an image size of 7152 x 1080 (horizontal wide panorama mode).
Compact Design and Rich Technologies
The W370 and W350 cameras are designed for customers who seek Sweep Panorama technology at an affordable price. For those seeking a long zoom and a compact body, the 14 MP DSC-W370 camera has a 7x long zoom lens for capturing far-away subjects, a 3-inch LCD screen (measured diagonally) for scrolling through images, Optical SteadyShot™ image stabilization, 720p movie recording capability and HDMI™ output for easily viewing movies on compatible televisions.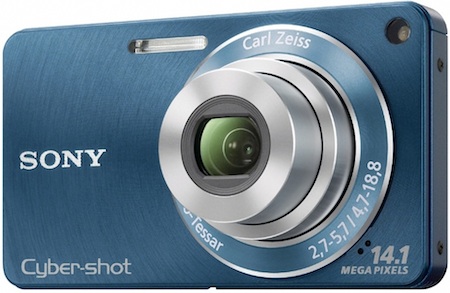 Sony DSC-W350
For those looking for the ultimate in portability, the W350 is the smallest camera in height and depth in the Sony 2010 line. It has a 2.7-inch LCD screen (measured diagonally) for viewing and sharing photos, a Carl Zeiss wide angle 26mm equivalent lens for excellent close-up shots and a 4x optical telescopic zoom. With 720p movie recording capability and Sony's Optical SteadyShot image stabilization on the W350 camera, it helps overcome camera shake when taking photos and videos on the move.
With HD video capability, these cameras record HD movies in 720p high definition MP4 format for stunning large-screen home movie playback. You can record up to 29 minutes (or up to 2GB file size) in the 720p format.
If sharing with friends and family is your first priority, the 14MP W330 camera has a large 3-inch LCD screen (measured diagonally) that makes viewing images easy. Additionally, it has a 4x Carl Zeiss lens with a wide angle 26mm equivalent lens.
Designed with size and affordability in mind, the 12MP CCD W310 model has a 2.7-inch LCD screen (measured diagonally) and 4x zoom with wide angle 28mm equivalent lens. For ultimate convenience and simple, straightforward image capture, the 12 MP S2100 model covers your basic camera needs with a 3x zoom, 3-inch LCD screen (measured diagonally), and it is powered by AA batteries.
Auto Intelligence and Easy to Operate
All five cameras include core Sony technologies: Intelligent Auto (iAuto) mode and Easy mode, which recognize scenes, lighting conditions and faces, and adjusts settings resulting in clearer images, faces with more natural skin tone and less blur. They also have Smile Shutter™ technology, which automatically captures a smile.
To give customers greater choice and enhance the overall customer experience, the cameras feature a memory card slot compatible with both Memory Stick (PRO Duo™) and SD/SDHC formats. Sony is also expanding its industry leading line of consumer media with the addition of SD/SDHC memory cards.
A New Way to Share Photos and Videos Online
These models include Picture Motion Browser ("PMB") software for viewing, editing, organizing and uploading images to many major video and photo sharing Web sites.
This spring, Sony will launch a new service and a new integration with Facebook allowing users to easily and quickly share their photos and videos privately with friends and family. The service and the integration will be available as a downloadable update to the "PMB" and "PMB portable" software applications that are embedded with bloggie™ and Cyber-shot cameras and bundled with Handycam camcorders, bloggie cameras, Cyber-Shot cameras and cameras. The Facebook integration complements the existing sharing capability with such sites as YouTube™ and Picasa™ Web Albums.
Pricing and Availability
The cameras and a range of accessories will be available online at Sonystyle.com, at Sony Style retail stores, at military base exchanges and at authorized dealers nationwide. Presales begin in January.