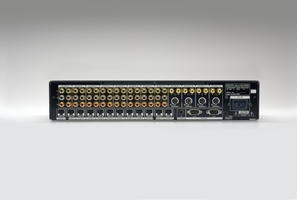 Sony Unveils Whole House High-Definition Video Distribution System
Responding to growing consumer demand for high definition video throughout the home, Sony Electronics introduced the CAV-CVS12ES HD video distribution system during Pacific Coast Builders Conference in San Francisco (May 30-June 1).
The CAV-CVS12ES distributes 12 zones of high-definition video throughout the home — via a single Cat5e wire per zone — and is fully integrated with the Sony CAV-M1000ES and CAV-M1000NR audio/video distribution system.
"With the rapid growth and popularity of HD video, custom installers are looking to integrate solutions that satisfy the desire for connectivity throughout the entire home," said Neal Manowitz, director of marketing for Sony Electronics' Consumer Systems and Applications division. "The CAV-CVS12ES adds HD video to the Sony M1000ES audio system, allowing custom installers to deliver on the consumer demand for whole house HD distribution."
Designed to distribute up to twelve source components throughout a home, the CAV-CVS12ES is a single-box solution that incorporates eight HD component video inputs (up to 1080p) and four composite video inputs with up-conversion for flexible device connectivity. High definition video content is delivered to up to 12 zones through CAT5e wiring, which is fed into a component adapter connected to the display.
The CAV-CVS12ES also features IR and RS-232 making it ideal for integration with a variety of control systems.
The CAV-CVS12ES will be available in September with an MSRP of $2,700 and can be purchased through authorized Sony installation dealers. The CAV-CVB1 Cat5e to component box will also be available in September with an MSRP of $129.
The CAV-CVS12ES High Definition video switching device features:
Distribution of 12 zones of HD over CAT5e
Eight component video inputs (up to 1080p)
Four composite video inputs with up conversion
IR and RS-232 control
Designed for and fully integrated with CAV-M1000ES and CAV-M1000NR
CAV-CVB1 Cat5e to component box at TV location
Five year ES warranty