Skullcandy strikes an aural coup and announces a unique partnership with Roc Nation to advance the audio experience. This first joint venture for the two brands affords both the opportunity to collaborate in the marketing as well as the creative direction of all merchandise. The power of this partnership will push new levels of style and sound in the marketplace and redefine the music listening experience.
Commented Shawn "JAY-Z" Carter, "Our passion is creating amazing music. We're dedicated to delivering the best in live performances. Now with the Roc Nation/Skullcandy partnership, we're offering the best way for people to experience the soundtrack of their lives."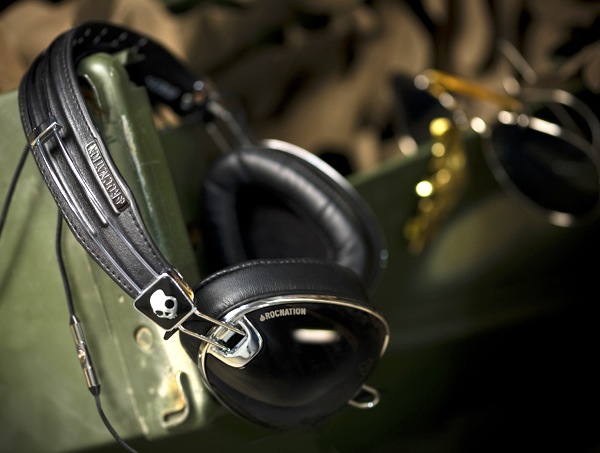 First up in this venture is the Roc Nation Aviator. Designed with superior metals, polycarbonate headphone cups, plush memory foam ear cushions, and premium materials previously only seen in the realm of high-fashion eyewear. Utilizing top-grade components, the Aviator's replication of studio music delivers a phonic experience with clarity and pure fidelity.
Commented Rick Alden, Skullcandy CEO, "This partnership is an incredible opportunity for Skullcandy. By teaming up with Roc Nation on both the creative and marketing direction of these products, we are able to set the bar at a new high – challenging the future quality of what emerges in the industry from here on out."
Look for the highly anticipated Roc Nation Aviator headphones available June 2010.
Features
Sound: Platinum sound performance, 40mm full-range enhanced audio driver.
Contour Fit: Aviator-inspired spring hinge creates the ideal contour fit with optimal wear and stow ability.
Detail: Optics-inspired poly carbonate speaker housing. Premium polished surface bringing a lens quality fit and finish.
Cable with mic: Tangle-free, no worries nylon cable with Skullcandy Mic3. In-line music and mic control for the day to day.
Stashable: Protect your investment. Foldable design nests into a plush carry case with internal organization.
Construction: Stainless steel, aluminum, poly carbonate
Specifications
Speaker Diameter: 40mm
Driver Type: Mylar
Magnet Type: Neodymium
Frequency Response: 20–20K Hz
Impedance: 33 ohms
Nominal Input Power: 40mW
Max Input Power: 100mW
Cable Type: Nylon Braided
Cable Length: 1.3m
Plug Type: 3.5 mm Gold Plated