Sirius XM Radio introduced the Lynx Portable Radio, the first SiriusXM 2.0 radio that offers new features and receives an expanded channel lineup via satellite and Internet.
Lynx is the most advanced radio ever from SiriusXM, able to receive the new expanded SiriusXM 2.0 channel lineup of commercial-free music, sports, and comedy that includes SiriusXM Latino, a new suite of Spanish-language programming. Lynx is built with a flexible architecture which allows for new features and capabilities to be added through software updates.
SiriusXM 2.0 is a major upgrade and evolution of SiriusXM's satellite and Internet delivered service that will ultimately span hardware, software, audio, and data services.
Lynx gives subscribers more control over how they listen to SiriusXM satellite radio, allowing them to start a song from the beginning when tuning to a Favorite music channel or store broadcast content to listen to later. Subscribers can also restart their favorite content while connected to SiriusXM Internet Radio via Wi-Fi. Subscribers can control their listening experience easily using the large touch screen display. Lynx can stream SiriusXM content to Bluetooth stereo speakers, headphones, vehicle stereo systems or optional accessories for the home, vehicle or portable use. Lynx is based on the Android operating system and is fully updatable via a Wi-Fi connection.
Features
Lynx stores up to 200 hours of satellite radio programming for later playback
Replay 5 hours of SiriusXM Internet Radio programming, start shows from the beginning and pause, skip forward and rewind previously broadcast content
Enjoy SiriusXM streamed to Bluetooth stereo speakers, headphones, vehicle stereo systems or the Lynx LH1 Home Kit
Allows future functionality and feature updates via Wi-Fi
Price and Availability
SiriusXM Lynx is available now for $249.99. Lynx will be available soon at retail stores nationwide.
Lynx offers key SiriusXM 2.0 features for satellite radio when docked with the optional Lynx LV1 Vehicle Kit or Lynx LH1 Home Kit, including:
Tune Start: Automatically starts the currently playing song from the beginning so listeners will hear the whole song when tuning to any of their satellite radio music channels saved as a Favorite channel.
Radio Replays: Subscribers can build a library of up to 200 hours of programming from their Favorite satellite radio channels which are automatically recorded to allow for playback anywhere.
Pause, Rewind and Replay: Listeners can replay up to 30 minutes of live SiriusXM content on the currently tuned channel, and also access replay content on 5 favorite preset channels currently displayed.
Featured Favorites: A dynamic set of presets that can be automatically added as favorite channels, allowing users to easily discover new and specialty programming.
Show Finder: An easy-to-use electronic programming guide offering a complete list of what's on over the next 7 days by channel, with the ability to set reminder alerts when favorite shows are being broadcast.
Lynx also offers SiriusXM 2.0 features for listening to SiriusXM Internet Radio via Wi-Fi networks at home, office or accessible hotspot, including:
Start Now allows subscribers to go back 5 hours to select and listen to previously broadcast programming.
View program information, album art and read artist bios.
Rewind to hear programming again or skip forward to hear what's playing next.
Pause live radio and pick up right where the listener left off
Access to Show Finder, the electronic programming guide.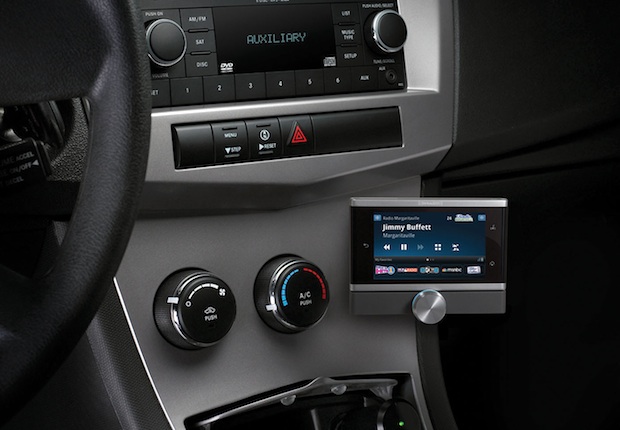 The SiriusXM Lynx LV1 Vehicle Kit gives subscribers everything needed to listen to satellite radio in the vehicle. Drivers and passengers can browse and quickly tune channels with a convenient rotary control knob. An Aux-In Cable is included to facilitate audio connection in vehicles that have audio systems with an auxiliary input connection. The LV1 can also connect to Bluetooth Audio-enabled systems, or through the vehicles existing radio using SiriusXM's PowerConnect transmitter. The vehicle kit also charges Lynx while docked. The Lynx vehicle kit is available for $69.99.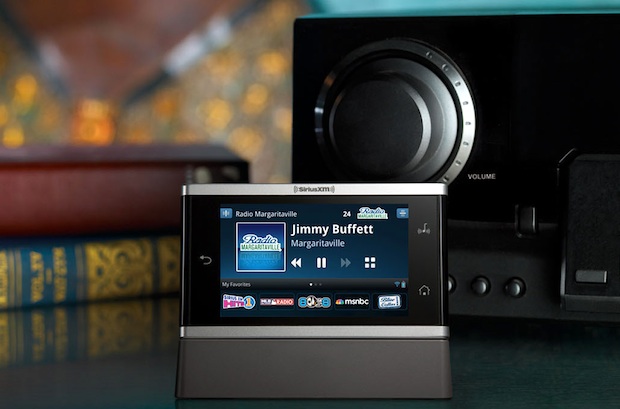 The SiriusXM Lynx LH1 Home Kit gives subscribers everything needed to listen to SiriusXM satellite radio or Internet radio in the home or office. Subscribers can connect to a home audio system with easy, do-it-yourself set up and stream SiriusXM from Lynx to the home kit with Bluetooth. The Lynx home kit is available for $69.99.
Lynx receives the new array of channels, added to the already ground-breaking and award-winning SiriusXM programming lineup. The expanded channel selection includes new commercial-free music plus new sports and comedy channels including channels created with the Rock and Roll Hall of Fame, ESPN SportsCenter, and Upright Citizens Brigade, as well as Carlin's Corner featuring albums, concerts and comedy from the archives of the legendary George Carlin.
SiriusXM Lynx also receives the full SiriusXM Latino channel lineup. SiriusXM Latino is the most comprehensive Latin programming lineup available to radio listeners, including exclusive commercial-free music channels and a wide variety of music genres, including tropical, salsa, merengue, Latin pop hits, Latin hip-hop, Latin rock classics and more.
Listeners will also get 24/7 news and talk from RadioFormula Mexico, the leading radio broadcaster from Mexico; sexy, smart, refined and exclusive adult programming showcasing Latin talent on Playboy Radio en Espanol; and Spanish-language coverage of world-class professional sports on multiple Deportes en Vivo channels. SiriusXM Latino will also include Cristina Radio from iconic talk show host Cristina Saralegui, and featuring lifestyle, health and family programming for Latinas. Cristina Radio, produced by National Latino Broadcasting, is launching in the coming months.