The first satellite radio controlled by an iPod touch or iPhone
SIRIUS XM Radio today announced that the XM SkyDock™, the first satellite radio controlled by an iPod touch or iPhone, is available for purchase in stores across the country including the Apple Store, Best Buy, Radio Shack, independent retailers and online retailers for $119.99.
"We are excited to launch XM SkyDock at our subscribers' favorite retailers," said Bob Law, Group Vice President and General Manager, After Market Division, SIRIUS XM Radio. "The XM SkyDock can bring live satellite radio entertainment to millions of iPod touch and iPhone users in their vehicles."
Subscribers can enjoy all of XM and the complete "Best of SIRIUS" programming package controlled by their iPod touch or iPhone anywhere they drive. XM SkyDock will also charge iPod touch and iPhone devices while listening to satellite radio.
The required XM SkyDock App utilizes the innovative Multi-Touch user interface of iPhone and iPod touch to let customers experience the breadth of content SIRIUS XM subscribers have come to enjoy. The XM SkyDock App is available for free from the App Store on iPhone and iPod touch.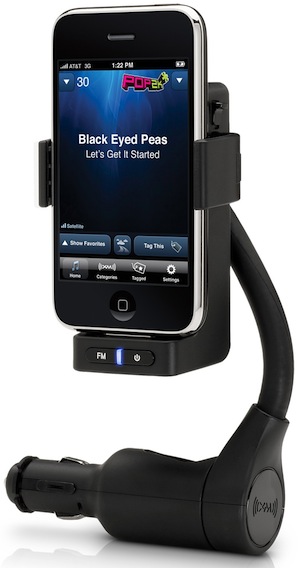 Subscribers can easily tag songs and purchase them from the iTunes Store — including songs on SIRIUS XM's 24/7 artist-branded commercial-free channels such as Jimmy Buffett's Radio Margaritaville, Elvis Radio, Eminem's Shade 45, The Grateful Dead Channel, B.B. King's Bluesville, Willie Nelson's Willie's Place, and Siriusly Sinatra.
XM SkyDock comes with SIRIUS XM's PowerConnect™ technology, which simplifies vehicle installation, working through the existing vehicle radio and making it easy to move from vehicle to vehicle. An Aux In Cable is a standard in-box accessory to facilitate Aux In connections in vehicles with Aux In capability.
XM SkyDock is compatible with iPod touch (1st and 2nd generation), iPhone, iPhone 3G and iPhone 3GS. All models require iPhone OS 3.0 or later.
XM SkyDock is available at retail locations and online stores nationwide at an MSRP of $119.99.