Shure Incorporated today announced that the award-winning PG27USB and PG42USB Side Address Condenser Microphones are now shipping, just in time for the holiday gift giving season. Earlier this year, Shure's PG27USB Microphone was recognized with the Company's X2u XLR-to-USB Signal Adapter as two of the Top 18 Products at CES 2009 in the Popular Mechanics Editor's Choice Awards.
The PG27USB and PG42USB Microphones complement Shure's full line of professional and home recording products, including the newly introduced Professional Headphones and X2u XLR-to-USB Signal Adapter. "Shure has a long history of building professional gear that stands up to the punishing treatment of traveling musicians. The introduction of our USB microphones is a testament to the fact that recording has moved beyond the studio," said Scott Sullivan, Shure's Senior Director of Global Product Management. "Now, everyone from on-the-go artists to traveling podcasters can create and capture professional sound quality from the road."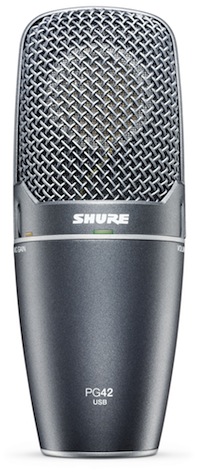 Shure's PG27USB and PG42USB Microphones connect professional-caliber Shure microphones to any USB computer port with "Plug and Play" performance. These cardioid condenser microphones feature built-in headphone monitoring with zero latency and monitor mix control, enabling users to instantly hear what they're recording and make adjustments on-the-go. Both microphones are durable enough for everyday use, but sophisticated enough for advanced recording by the most discerning recordists.
The key difference between the PG27USB and PG42USB Microphones is the application for which they were designed. The PG27USB features a flat, neutral frequency response for reproduction of a wide variety of instrument and vocal sounds. The PG42USB was engineered to reproduce the subtle nuances of lead vocals; its large diaphragm, low-cut filter and external shock-mount are all optimized for the higher sensitivity required for vocal performances.
Other unique features of the PG27USB and PG42USB include:
Large diaphragm capsule: Provides wider dynamic range, clear highs, and strong lows.
USB "Plug and Play" Connectivity: Enables the convenience of digital recording, anywhere your computer goes.
Integrated pre-amp with Microphone Gain Control: Allows control of input signal strength.
Zero Latency Monitoring: For real-time playback and multi-tracking without disorientation.
Headphone Jack: For monitoring with 1/8″ connectivity.
Monitor Mix Control: For blending microphone and playback audio.
Pricing and Availability
The PG27USB and PG42USB Side Address Condenser Microphones carry a two-year limited warranty and can be purchased at select retail partners.