Enbabled for Bluetooth streaming audio
Provides Dolby and DTS lossless audio
Three HDMI 1.3 inputs with repeater
Automated set-up and EQ
Dual zone operation
Sherwood America Inc., one of the world's leading manufacturers of high performance audio and video equipment, introduces a new high-performance A/V receiver, the RD-7503. At an SRP of $439.95, this 100 watt x7 receiver offers an extraordinary range of performance features for the dollar, including Bluetooth audio streaming, HDMI 1.3 audio repeater capability, and lossless audio decoding.
Bluetooth audio streaming has rapidly become the preferred method of wireless audio transmission for portable devices, and the RD-7503 is one of a handful of audio/video receivers capable of processing those signals. The 7503 can receive streaming MP3 stereo audio from any Bluetooth A2DP source device, when an optional Sherwood BT-R7 receiver is plugged into the 7503's front panel. Future Sherwood receivers will also have this capability.
Sherwood RD-7503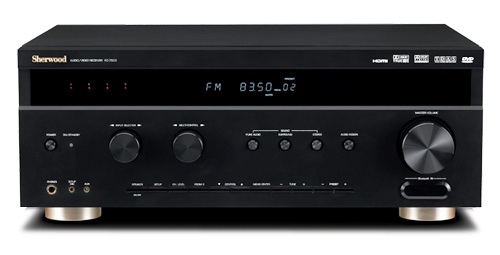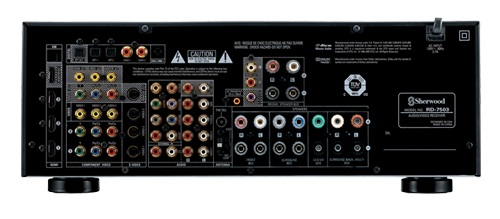 "With a Bluetooth-enabled 7503, I can walk into my home, press play on my cell phone, and have Miles Davis streaming over my audio system with the phone still in my pocket," said Jeffrey Hipps, Sherwood's Sr. VP for Marketing and Product Development. "Music lovers with large libraries on their portable devices are used to listening anywhere at any time, and providing them with a seamless connection to their primary home audio system is a logical progression."
This means that every Bluetooth audio-enabled product is a potential source component — and with today's portable music lifestyle, there are a wide variety of devices that allow audiophiles to organize and store their favorite music: iPods, Portable Music Players, Smart Cell Phones, Personal Data Assistants, Laptop Computers, Notebook Computers and Desktop Computers.
Using the listener's primary audio/video system for wireless playback means not only eliminating an iPod dock or cables, but also provides the highest quality sound, because playback is over the primary system's speakers rather than the ones found in a tiny iPod dock or portable device.
The RD-7503 also one of the few products in its price category with repeater circuitry on its three HDMI 1.3 inputs. Unlike receivers that simply hand off the audio component of an HDMI input signal to an HDMI output, the RD-7503 can also receive and process the HDMI audio from the source component, eliminating the need for separate audio cables from the source component to the receiver. One HDMI output is provided.
Lossless audio decoding for both Dolby TruHD and DTS Master Audio HD delivers high-resolution audio for Blu-ray playback. Other advanced audio options include the DTS 96/24, ES, and Neo6 formats, as well as Dolby ProLogic IIx, Virtual Speaker, and Dolby Headphone. For playback of SACD and DVD-A source components, 7.1 channel direct inputs are provided.
All seven channels of amplification utilize a totally discrete amplifier stage delivering 100 watts per channel at 8 ohms with less than 0.2% THD. Superior audio quality is assured through the use of 24 bit/192 KHz D/A converters, and all PCM signals are upsampled to 24 bit/96KHz.
A supplied calibration microphone and automated set-up procedure make speaker and system optimization easy, including advanced room tuning and equalization through Sherwood's SNAP™ (Sherwood Newcastle Automatic Parametric) 12-band room EQ. An additional 5-band user adjustable parametric EQ is provided for further tweaking.
A wide range of speaker configurations and sizes can be accommodated through a Quadruple Crossover function that allows up to four different frequencies to be selected as the subwoofer crossover point for the seven main channels, allowing different settings for main speakers, center channel, and sets of surrounds.
Two component video inputs and a component video output are included, along with composite and S-Video inputs. Audio inputs include three coaxial digital, two Toslink, and eight analog. To compensate for source-related lip synch problems, each input has its own A/V Synch Delay.
For pure two-channel stereo listening, "Tone Direct" bypasses all signal processing and tone controls. A Cinema EQ setting is available, as well as eight DSP surround modes that include "Theater," "Hall, and "Stadium". A multi-stage Dynamic Range control is useful for nighttime listening and playback at low volume levels.
For remote listening in a second room, Multi-source, Dual-Zone operation is available, and the receiver is provided with a preprogrammed IR remote control. The 7503's Quartz PLL Synthesized AM/FM tuner has 30 presets and is Sirius ready.