Sharp Corporation will introduce into the Japanese market the 16-model AQUOS DX Series (including 52V-, 46V-, 42V-, 37V-, 32V-, and 26V-inch2 models), the world's first1 series of LCD TVs equipped with Blu-ray Disc Recorders.
Consumers can experience a new TV entertainment lifestyle by not only watching TV, but also playing Blu-ray Discs and DVDs and recording in HD on Blu-ray Discs, all with a single unit.
Complicated connecting cables are unnecessary thanks to the all-in-one design and the single remote control achieves a new level of simple, easy operability for all consumers. For example, consumers can navigate the TV-viewing, disc-playing, recording, and pre-set record functions all with just one action, and the newly developed Motion Guide offers "one-shot" disc playing by playing discs automatically when they are inserted.
As for recording and playing media, the Digital W Tuner lets consumers record programs while watching TV, and the H.264/AVC (Advanced Video Coding) standard of the MPEG-4 suite enables 5X extended HD video recording (5X Mode3), which allows for extended recording time while retaining the same exact full-HD quality as the original high-definition broadcast. The DX Series also features 2X Mode and 3X Mode with Full-Capture Extended HD Recording, which allows recording of audio surround-sound data and extended HD recording while keeping intact the program data links embedded in the original video4.
The TV itself is made from a high-class, high-quality Kameyama LCD panel5 that achieves a remarkable feeling of depth and delivers high-gradation images with smooth picture quality. Plus, the DX Series comes complete with Sharp's 1-Bit digital amp to faithfully recreate original sounds and its side-port Bass Reflex Speaker to deliver powerful deep bass sounds from a compact sound system.
Sharp, always at the forefront of the flat-panel TV industry with AQUOS, now offers a new kind of product that incorporates the best in image quality, sound quality, design, and environmental performance to provide consumers with an all-encompassing entertainment experience.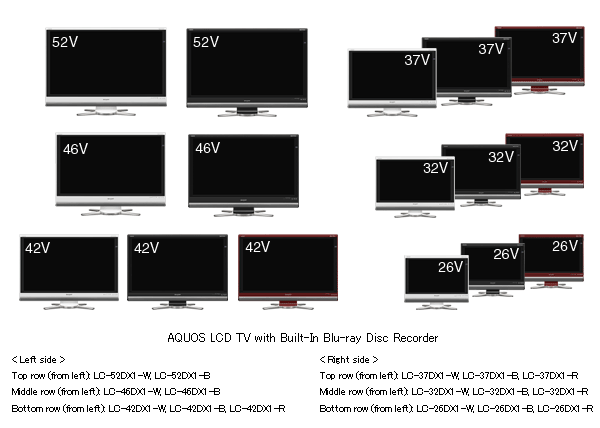 Major Features
World's first LCD TV with built-in Blu-ray Disc Recorder
New Motion Guide enables controlling functions while watching TV
Smooth picture quality of a Kameyama LCD panel combined with the superior sound of Sharp's proprietary 1-Bit digital amp
Three color variations to match different interiors
Environmentally friendly, energy-efficient design
---
As of October 15, 2008 for digital HD LCD TVs with built-in Blu-ray Disc Recorders.
"V-inch" is a measure of the true size of the flat TV screen, standardizing on the length of the diagonal dimension of the actual viewing area.
5X mode (approx. 4.8 Mbps) allows the user to record high-definition BS/110°CS digital broadcasts for five times as long as DR mode. (When using a 50 GB [single-sided, dual-layer] disc, approximately 21 hours and 40 minutes can be recorded.)
Except when using 5X Mode. When using 5X mode, audio surround-sound data can be retained and recorded without conversion, however, the program link data cannot be recorded.
52V-, 46V-, 42V-, and 37V-inch models are built with full-HD LCD panels; 32V- and 26V-inch models are built with HD LCD panels.
Reviews Around the Web:

sharp aquos dx