Photo: PX 100-II
Simply reach into your bag, switch on your MP3 player, unfold your headphones and you're ready to listen. With the second generation of the Sennheiser models PX 100 and PX 200 you can enjoy music in excellent quality anywhere and at any time. The two foldable mini headphones with proven Sennheiser acoustics are the ideal companion wherever you go. The new Sennheiser models will be shown for the first time at IFA in Berlin.
For all those who want top-quality sound not only at home but also for their iPhone, iPod or MP3 player, audio specialist Sennheiser now has two new mini headphones in its product range. "The PX 100-II and the PX 200-II have powerful transducers with neodymium magnets that ensure a clear and natural sound reproduction and a total harmonic distortion of less than 0.1 percent," said Ivan Kuan, Senior Product Manager Consumer Electronics at Sennheiser, describing the two new headphones. "In recent years, there have been tremendous further developments in the technology — and therefore in the sound quality — of portable players. For that reason, music lovers should choose those headphones that also make this progress audible."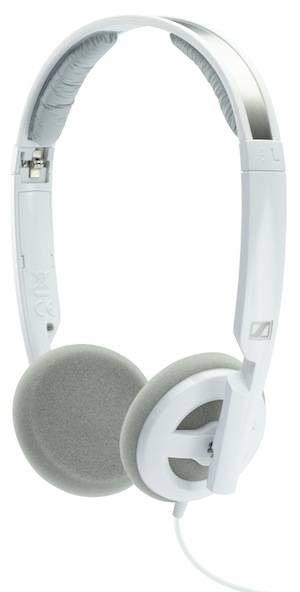 Photo: PX 100-II in black and white
Mini headphones in a class of their own
The PX 100-II is a pair of dynamic mini headphones with an open design and, just like its predecessor model, guarantees natural sound reproduction with a powerful bass. Its frequency response ranges from 15 to 27,000 Hertz. The PX200-II is ideally suited for use in noisy surroundings. Its closed design effectively attenuates external noise, letting you listen to music in peace without being disturbed — and without disturbing others. Improved ear pads additionally guarantee an optimal sealing with the ears. The frequency response of the closed stereo mini headphones extends from 10 to 21,000 Hertz — the perfect sound experience on the go.


Photo: PX 200-II in black and white
With their comfortably padded, supra-aural ear cushions, the PX100-II and PX 200-II can provide music enjoyment for hours on end. A 1.2 metre long, single- sided cable offers generous freedom of movement — even if your player is in your pocket. The PX 200-II also lets you conveniently adjust the volume using the volume control integrated into the cable.
Amazing sound — amazingly compact
PX 200-II Controller

The PX 100-II and PX 200-II not only offer outstanding acoustic properties, the foldable mini headphones are also amazingly compact. The clever 'fold and flip' design means that you simply close the headband, fold in the ear cups and the headphones are then small enough to pack away into the handy transport pouch.
New steel reinforcements in the headband and sturdy metal joints provide the headphones with the necessary strength and durability even in the toughest everyday use. When they are folded away, you can take them anywhere. After all, great sound doesn't need much space.
The PX 100-II and the PX 200-II are available in stores worldwide from September in the colours black and white. The set includes a soft transport pouch.