Sennheiser announced the on-ear MM 450-X and over-the-ear MM 550-X Stereo Bluetooth wireless headsets with the latest Apt-X technology for better sound. By compressing sound at a four times higher rate, apt-X delivers a fuller and wider audio spectrum. The top model, MM 550-X, offers surround sound via the SRS WOW HD technology that creates a wider, taller sound, with greater clarity and a stronger bass.
The MM 550-X and 450-X are packed with premium features that make the headsets the number one choice for every audiophile who doesn't want to deal with background noise, but still wants to stay connected on the move. Featuring the NoiseGard 2.0 active noise cancelling technology the headsets cancel out 90% of the background noise and deliver calls in crystal-clear quality. And the praised TalkThrough function delivers clear conversation with only a press of a button activating the external microphone. There is no need to remove the headphones.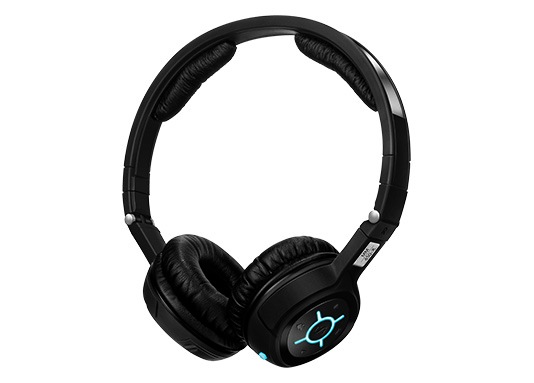 Sennheiser MM 450-X
Both headsets support most of the apt-X mobile devices as well as Mac OS X Lion. If the mobile device or the computer doesn't support apt-X the headsets will automatically switch to regular Bluetooth audio quality. Both headsets are lightweight and foldable and include a cable, making them the perfect travelling companion.
Price and Availability
Sennheiser MM 450-X headset → $449.95 (available March 2012)
Sennheiser MM 550-X headset → $499.95 (available March 2012)