Schneider Optics introduced the iPro Lens System offering interchangeable wide-angle, telephoto, and fish-eye lens options specially designed for iPhone 4 and 4S. The iPro lenses enable dramatic photographic improvements for still images or videos taken with the iPhone.
The iPro Lens System features a rugged black iPhone case with a specially designed cut-out over the iPhone camera lens that lets you twist on different lenses. The lenses use a bayonet mount to securely fasten onto the custom iPhone case. The case also gives users the option of attaching the handle on the left or right side of the iPhone. What's more, the handle part of the case enables the iPhone to be attached to a tripod.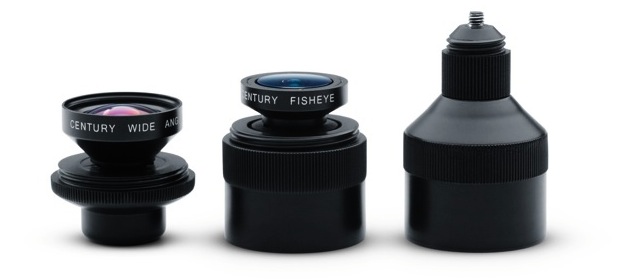 Optimized for both still and video images, the iPro Lens System includes precision-made, genuine Century lenses, designed by the same team who are known worldwide for quality television and motion picture optics.
The Wide Angle lens simply twists on to increase the iPhone's field-of-view by 35 percent with low distortion and edge-to-edge sharpness. So no matter how tight the quarters or how crowded the frame, users capture over 1/3 more in the shot.
For a super-wide, distorted effect, there's the Fisheye lens. It alters the still photographer's field of view by a dramatic 165° adding a wow-'em effect to everything from panoramas to action sports shots.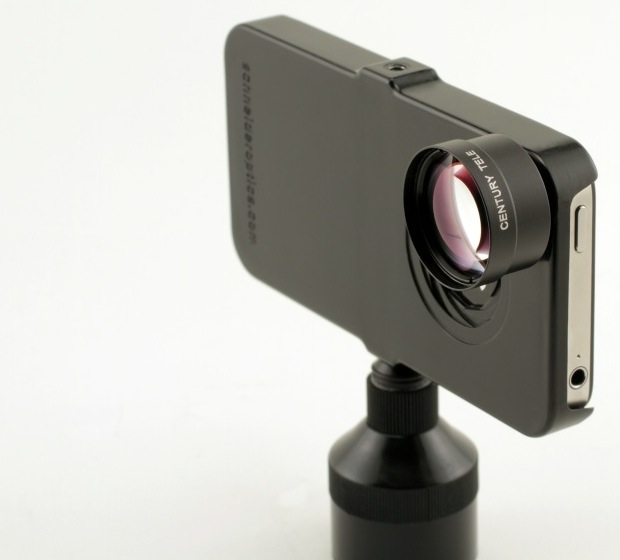 The 2X Tele lens narrows the iPhone's field-of-view by half, bringing objects closer. Especially useful for headshots, the new lens reduces perspective distortion resulting in more pleasing portraits than those taken with the iPhone's native lens.
iPro lens housings are precision machined from aluminum alloy and anodized for durability. The lens elements are painstakingly ground and polished from top grade optical glass. To avoid flare, the lenses feature multi-layer anti-reflection coatings.
Price and Availability
The iPro Lens System, complete with the iPhone case, Fisheye lens, Wide Angle lens, and Handle/lens case are available now for $199.
The new iPro 2X Tele lens will be available in April 2012 for $100.