Sceptre has introduced a 46-inch LCD FullHD TV, model X460BV-FHD, with premium surround sound in an elegant glossy black finish with silver highlights. Inspired by the increased demand for quality and space, the new 46-inch LCD is less than an inch at its thinnest and combines Sceptre's image quality with SRS TruSurround HD and TruVolume.
The addition of SRS TruSurround HD & TruVolume complements Sceptre's image quality, features and aesthetic design to create the ultimate home theater experience in one unit. Characteristic features include 100,000:1 Dynamic Contrast Ratio, 1920 x 1080 resolution, 7-band Equalizer, 4 HDMI ports, and the ability to swivel up to 30 degrees.
SRS TruSurround HD creates a three dimensional surround sound by using only two speakers, eliminating background noise, increasing dialogue clarity and optimizing bass for a more engaging experience. To complement the SRS TruSurround HD, the use of TruVolume prevents volume fluctuations when switching between sources, channels or programming, while the 7-band equalizer allows users to adjust to 7 unique frequencies depending on their preferences.
In addition to the premium sound experience, Sceptre's new 46-inch LCD FullHD TV is significantly slimmer and lighter when compared to previous models. Weighing only 55 lbs when compared to the industry average of over 80 lbs, the new model is less than a inch at its thinnest and uses less power, making it both eco-friendly and money saving.
The new 46-inch LCD FullHD 1080P TV is available with self power-off option, supports Digital Audio output, has dual 10 Watt speakers, an all-in-one ATSC/NTSC/Clear QAM Tuner, 4 HDMI ports and 1 USB ports for easy expansion. In addition, it is neck and base detachable, can swivel up to 30 degrees and is versatile enough to be used as a monitor or signage.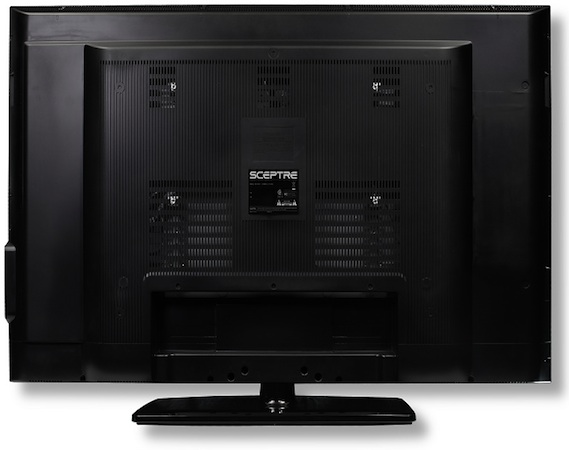 X460BV-FHD Specifications
46″ Active Screen Size
Aspect Radio: 16:9 Wide Screen
1080p FullHD
1920×1080 Resolution
100,000:1 Dynamic Contrast Ratio
8 ms Response Time
4 x HDMI Ports
USB Port
10 Watt x 2 speakers
SRS TruSurround & TruVolume
Digital Audio Output
7-band Equalizer
ATSC/NTSC/Clear QAM
Vesa Mount 400×200
Swivel Base +/- 30 degrees
MSRP: $699.99 (available now)
Reviews Around the Web:

sceptre x460bv-fhd