Kyocera announced the immediate availability of Sanyo Vero by Kyocera at Sprint. Vero is ideal for consumers seeking a phone that is intuitive and easy to use, especially in the growing youth and senior markets. The phone blends attractive styling with user-friendly features like a huge keypad, strong battery life and a large-font option for easy reading on the vibrant 2.4-inch QVGA display.
Vero is available now through Sprint's direct ship sales and will be available in all remaining Sprint retail channels beginning October 10. It costs just $9.99 with a new two-year service agreement, after a $50 mail-in rebate (price excludes taxes and surcharges).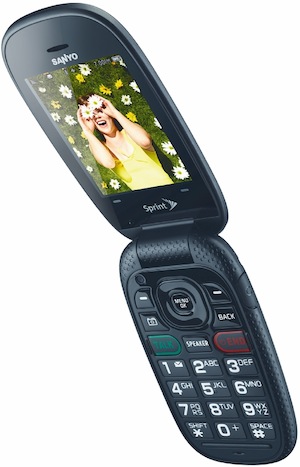 The handset features a "grippable" soft-black finish and an attractive external 1.3-inch OLED glow-thru display for caller ID and clock. A 1.3 megapixel camera takes sharp photos that are easily shared using multimedia messaging (MMS). Once flipped open, Vero's extra-large key pad enables quick and easy dialing and the large-font option can be selected for convenient viewing of feature menus and contacts. With up to 5.2 hours of talk time, Vero is always at the ready.
The family-friendly Vero supports Sprint Family Locator, which uses GPS technology to locate a phone and displays the location on an interactive map, and includes Parental Controls, a great feature for parents and business managers alike. Weighing in at only 3.4 ounces, Vero includes WAP 2.0 for downloading ringers, games and screensavers; a superior speakerphone; and Automatic Speech Recognition software (ASR) to dial numbers or launch phone functions. Casual data charges of $0.03/kb will apply to customers not on a plan with unlimited data.
Reviews Around the Web:

sanyo vero kyocera