Elegant mocha-finished hardwood and smoked glass offer unique aesthetic appeal while design features provide performance-enhancement benefits for AV components
Sanus Systems announces a new series within its AV Foundations™ furniture line scheduled for shipment in mid May. Appropriately named the "Designer Series," this collection of AV component stands was created exclusively for Sanus by renowned industrial design firm Cramer Studio, which had previously designed the Sanus AV Foundations™ Component Series.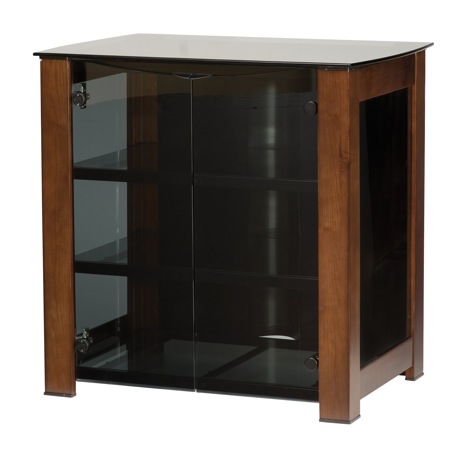 Sanus Systems DFAV30
Models DFAV30, a four-shelf component stand, and the three-shelf DFV49 lowboy offer the perfect balance of aesthetic appeal and functionality for today's AV user. Each unit features a unique combination of elegant mocha-finished hardwood legs and smoked tempered glass for the top, sides, shelves and doors. A number of design features allow for optimal performance of the user's AV equipment, including:
Smoked tempered glass for an enclosed look that doesn't interfere with infrared remote control signals (even when the doors are closed)
Spacious shelves designed to accommodate large AV gear
Generous cable management channel for concealing and routing wires behind the furniture
Steel back panels which can be removed individually for easy maintenance and to allow for additional depth
Multi-adjustable hinges for smooth movement and perfect alignment of doors
Convection cooling system that allows heated air to escape through the top as cool air is drawn in through the bottom
The DFAV30 includes four shelves and six removable back panels and supports TVs up to 37″, where the DFV49 has three shelves and four removable back panels and supports TVs up to 52″. The products list for $429.99 (DFAV30) and $449.99 (DFV49) USD.


Sanus Systems DFAV49
About Cramer Studio
Cramer Studio was established in 1982 by designer Dan Cramer after he earned an MFA in Design from Cranbrook Academy of Arts in Bloomfield Hills, Michigan. Cramer Studio designs and develops products for healthcare, corporate and residential interior spaces. Cramer's designs have received five gold and silver awards for Best of NeoCon, a Nightingale Award and two International Design Resource Awards for environmentally responsible consumer products. Cramer has been granted numerous patents for his designs and his products have been exhibited around the world and published in many international design journals.
About Sanus Systems
Sanus Systems, a division of Milestone AV Technologies, designs and builds a broad variety of audio video mounts, furnishings and accessories that will satisfy even the most demanding audio/video enthusiast or interior designer. Every Sanus product is engineered to enhance AV systems and the surrounding decor. Today Sanus offers more than 300 products, including on-wall furniture, home theater furniture, TV stands, audio racks, wall mounts and speaker supports. Sanus products are available at thousands of retail locations nationwide.