1 ms Response Time, 70,000:1 Contrast Ratio and Full HD 1920×1080 Resolution
Samsung announced the new SyncMaster P2770FH LCD monitor which offers an unprecedented 1 ms response time. This response rate virtually eliminates motion blur and ghosting effects in the monitor, improving the viewing experience for end-users requiring fast refresh rates and precise detail.
Unprecedented Response Time
The P2770FH's groundbreaking 1 ms response time offers an unbeatable experience for users looking to immerse themselves in computer gaming or movies. Video editors will especially appreciate the lightning-quick response time, which eliminates motion blur and ghosting effects that hinder accuracy during the editing process. Additionally, computer gamers will benefit from the quick response, allowing them to fully enjoy game play and engage in a more fulfilling experience.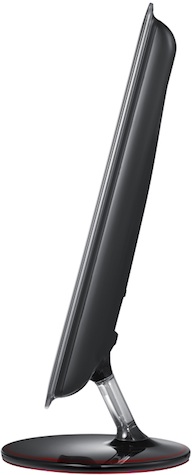 For more general consumer use, the fast response time contributes to smoother video playback, making it ideal for reviewing family movies or compiling the latest vacation memories. Additionally, the P2770FH's 70,000:1 dynamic contrast ratio and enriched color gamut offers a premium quality display for a variety of applications.
Elegant Design, Capable Connectivity
The new P2770FH features a contemporary and elegant design. The 27-inch LCD monitor is accented by Samsung's Touch of Color red finish and a refined, simple stand, making it an ideal technology accessory fit for any office or workspace.
The P2270FH also comes equipped with a HDMI input for easy connection to HD devices, including cable boxes, video game consoles, and Blu-ray players.
Specifications
Full HD 1920 x 1080 resolution
1ms response time
70,000:1 dynamic contrast ratio
Viewing angle: 170°/160°
Input: HDMI, Standard VGA, DVI-I
Audio: Audio Out, Optical Audio Out
Dimensions: 26 x 19 x 9.6 inches
Weight: 6.7 lbs.
Price and Availability
The P2770FH will be available in October 2010, priced at $399.99.