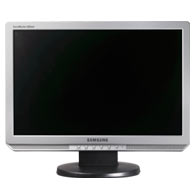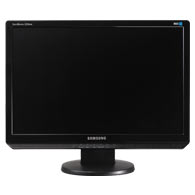 Samsung Introduces Trio of Monitors with Multimedia Capabilities; New 19 and 22-Inch LCD Monitors Feature Built-in Speakers, Fast Response Time, for Commercial and Retail Applications
Samsung Electronics America, Inc., a world-leading provider of professional LCD and PDP display products, today introduced a new series of 19 and 22-inch LCD monitors, each with built-in speakers, to its line of SyncMaster™ displays. The SyncMaster 920BM 19-inch monitor and the SyncMaster 920WM and 2220WM widescreen monitors were designed for both commercial users and consumers seeking enhanced multimedia capabilities.
All three monitors feature built-in multimedia speakers, allowing end-users to seamlessly participate in teleconferences or listen to videos and audio presentations without the need to incur the cost of acquiring separate speakers. The built-in speakers also prove to be an attractive option for consumers looking for a compact solution for listening to music or watching movies on their computer monitor.
The monitors feature Samsung's proprietary Magic technologies for enhanced performance and image quality, including MagicBright2 and MagicSpeed. MagicBright2 automatically optimizes brightness, contrast and gamma correction, based on the specific application. MagicSpeed allows for an ultra-fast response time of 5ms GTG, delivering enhanced motion graphics reproduction with virtually no blurring or ghosting.
The 920WM and the 2220WM monitors are equipped with a 16:10 wide-screen format, thereby helping to improve work efficiency by supporting multiple application windows simultaneously and reducing the need for two monitors.
"By combining built-in speakers with exceptional image quality and a fast response time, this series of displays is an excellent choice for any personal and professional user who seeks a superior multimedia experience and advanced motion graphics," said Young Bae, senior display product manager, display products, Samsung Electronics America, Inc. "Samsung is proud to include these high-performance monitors in its award-winning line of SyncMaster displays."
The new multimedia monitors were designed to create a comfortable, highly-customizable user experience. To that end, all three monitors feature a detachable stand that allows for wall or arm mounting. Furthermore, all three monitors incorporate ergonomic capabilities for enhanced comfort and flexibility.
The 920BM monitor, with a MSRP at $249.99, also features a resolution of 1280 x 1024 and a contrast ratio of 1000:1. MSRP at $219.99, the 920WM model, has a resolution of 1440 x 900 and a contrast ratio of 700:1, while the 2220WM has an MSRP of $349.99, features an ultra-high resolution of 1680 x 1050 and a contrast ratio of 1000:1.
All Samsung displays are backed by a three-year limited warranty on labor and parts, including the backlight, as well as toll-free technical support for the life of the display.
The 920BM, 920WM and 2220WM monitors are currently available through Samsung resellers and distribution channels, which can be located by calling 1-800-SAMSUNG or by visiting http://www.samsung.com.
About Samsung Electronics America Information Technology Division
Samsung's Information Technology Division (ITD) markets a complete line of award-winning LCD Monitor products, including professional large format LCD and Plasma displays. ITD also markets an award-winning line of color and monochrome laser printers and multifunction devices, video security systems and the family of Samsung Q1 Ultra-Mobile Personal Computers (UMPC). Samsung ITD is committed to supporting the needs of its channel partners in the professional, commercial, corporate, and SOHO markets. Based in Irvine, California, ITD is a division of Samsung Electronics America (SEA), a U.S. subsidiary of Samsung Electronics Company, Ltd. (SEC). The SEA organization oversees the North American operations of Samsung including Samsung Telecommunications America, LP, Samsung Electronics Canada, Inc. and Samsung Electronics Mexico, Inc. Please visit http://www.samsung.com for more information or call 1-800-SAMSUNG.