Monitors Use New Display Technology To Create Seamless Multi-Display Solution
Samsung Electronics America, a subsidiary of Samsung Electronics Corporation, the number one brand of LCD monitors in the world, launched a set of high-performance monitors that offer a seamless multi-display solution for optimal viewing opportunities. The monitors include a new 22-inch SyncMaster 2243QW, as well as the laptop companion monitors LD220 and LD190X. All three monitors incorporate Samsung's UbiSync technology to help extend users' visual workspace by connecting up to six displays to a PC via USB cable.
UbiSync technology creates a multi-monitor system that can be operated from a single PC without a graphics card or complex software installations. The technology is especially valuable to users who desire portability and a larger, richer screen surface to help maximize productivity and visual effects.
"Samsung's UbiSync technology takes our monitors to a new level of distinction among users whose expectations increase with the ever-evolving display market," said R.A Atanus, Vice President of Product Marketing at Samsung Electronics' Information Technology Division. "These three new monitors show that innovation, technology and style are not exclusive of each other. Samsung's commitment to provide the best displays ensures users always get excellent graphics and versatility."
Samsung 2243QW
The Samsung 2243QW has a resolution of 1680 x 1050, a 1000:1 contrast ratio, and 5 ms response time ensuing smooth video performance on each networked display. In addition to a built-in USB hub, it features the traditional VGA (15-pin D-sub) and DVI-D connections. The monitor is compatible with both Mac and Windows systems, and it comes with a pivot function that allows it to operate in either portrait or landscape mode.
The LD-series monitors feature sleek, clean contours and high-glossy black encasements to serve as secondary displays for today's stylish laptops. The models' intelligent image size function projects 4:3 images from laptops in Movie Wide aspect ratios of 16:9 in HD content, allowing users to enjoy optimized visual effects for both entertainment and business purposes. The LD220 and LD190X monitors have a resolution of 1920 x 1080 and 1366 x 768, 5ms response time, contrast ratio of 1000:1, and are compatible with Windows Vista operating systems. With green in mind, the monitors have two-lamp low power consumption and an off timer to help conserve energy.
The LD190X model uses UbiSync wireless technology that transmits video signal to the monitor from the host notebook and uses about 33 percent less energy than conventional 19″ product.
Samsung LD-series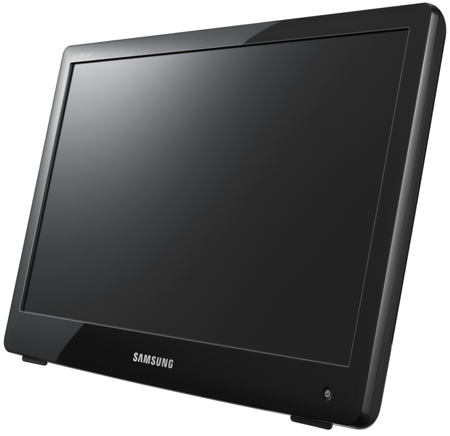 The UbiSync software allows the LD-series monitors to attain the same level of brightness on two screens, with one button, to help reduce eye fatigue, and an easy-to-adjust viewpoint.
Monitor Product Specifications
2243QW USB
1680 x 1050 resolution
1000:1 contrast ratio
5ms response time
Built-in USB hub(1U2D)
VGA (15-pin D-sub) and DVI-D connections
Mac and Windows compatibility
Pivot function for portrait or landscape mode
LD190X
1366 x 768 native resolution
250 cd/m2 brightness
1000:1 contrast ratio
5ms response time
VGA and USB interface
Windows Vista compatibility
UbiSync Wireless technology
2-lamp low power consumption
LD220
1366 x 768 native resolution
250 cd/m2 brightness
1000:1 contrast ratio
5ms response time
VGA and USB interface
Windows Vista compatibility
UbiSync USB technology